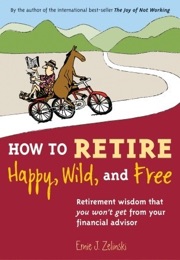 After finishing the book How to Retire Happy, Wild, and Free by Ernie Zelinski, I am surprised at how unique it is. After all these years, this may be the first book I've read that directly explores the non-financial aspects of retirement. There are no historical rates of return, compound interest charts, or income strategies. Consider:
How will you create meaning in your life?
What activities will you keep your mind and body in top shape?
Who will you spend your time with?
What kind of environment do you want to surround yourself?
I've already written about two interesting points inside: Listing 10 activities you'd like to do in retirement, and the differences between a retirement activity and a job. Here are the rest of my book notes.
On going back to some form of paid work after official retirement:
A research study released in 2001 by Cornell University psychologists found that, particularly for men, employment after official retirement is beneficial for their psychological wellbeing. Those who retire from their primary career, but then find some sort of other work, are the happiest and suffer the least depression. Surprisingly, the researchers didn't find much difference for women who go back to work after retiring versus those who don't. No reasons were given for this important difference between the sexes.
On separating yourself from your job:
Many professionals miss their personal career space and some have been known to rent office space after they have retired to maintain their routine and sense of importance. They'll tell their friends "Call me at the office," just so they have a place to go.

For most of us, who we are, is based on what we do. If we become too dependent on this mind-set and our job ends, we lose our sense of identity. So before, or soon after retirement, we need to redefine who we are in a positive and meaningful way. Recycle yourself.
To help with this separation, try listing your five best traits that have nothing to do with work. Here are some possible examples:
ambitious
well-organized
hard-working
creative
kind
passionate
generous
joyful
loving
spontaneous
connected to others
good sense of humor
peaceful
inner happiness
spiritual
On figuring out how to spend your time instead of work. Ask yourself these questions:
What gift do I give naturally to others?
What gift do I most enjoy giving to others?
What gift have I most often given to others?
Some people don't need any help in this area. They are ready to sail around the world, then bike around the world in reverse, and so on.
However, many others do need some help creating a fulfilling retirement. This book can help. Perhaps you keep on working because you can't imagine retirement, or you have already retired but find yourself in a funk. The initial "I'm finally freeeeeeeee!!" has worn off. You might even be a little depressed from the social isolation or lack of structure in your life. This book can help.