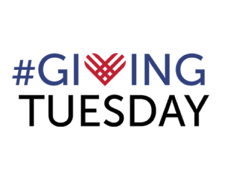 Tuesday, November 28th is Giving Tuesday 2017. Black Friday, Cyber Monday… don't forget that this time of the year is also huge for charities. I've saw a stat that 40% of donations occur in the last six weeks of the year. Here are some ways you can make your donation go farther with a match.
Facebook/Gates Foundation match (good toward any charity that accepts donations via Facebook). Starting at 8am Eastern on 11/28, Facebook and the Bill & Melinda Gates Foundation will match $2 million in donations to U.S. nonprofits – up to $50,000 per nonprofit and $1,000 per fundraiser or donate button on Facebook. In addition, all transaction and processing fees with be waived for this day – usually Facebook charges a 5% fee. The donation must be made through a fundraiser for a nonprofit, a donate button on a post, a donate button on a Page or a donate button on a live video.
For example, give directly with the donate button on the The Humane Society Facebook Page. You can also start your own fundraiser here or simply post up a donate button to support your favorite charity.
Check for an employer match. Try this lookup tool from DoubleTheDonation. Most of these programs don't require you to actually give on a specific day, but you may want to start the process today so you don't forget in the holiday rush.
Individual charities. The following large charities have organized their own matches.
Many local charities may also have matching grants today.
PayPal +1%. A dollar-for-dollar match is +100%. From 11/28 through 12/31/17, PayPal will add 1% to donations that you make through the PayPal Giving Fund. In addition, PayPal will not charge any transaction fees to the charity. That makes this offer not so good on Giving Tuesday perhaps, but afterward it is still something.
You must use your PayPal account. The minimum donation is $10. As far as I can tell, you can link up any rewards credit card of your choice and use that as the funding source. Your donation will technically be given to the PayPal Giving Fund, an IRS-registered 501(c)(3) nonprofit organization, and then disbursed to your selected nonprofit. It will still be tax-deductible to the extent allowed by law. One catch is that the charity has to participate in their PayPal Giving Fund in order to get the money.
Having trouble deciding where to give? Here are some charity comparison sites that will help you pick where to send your help.