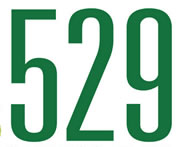 Many people want to take advantage of the tax benefits of 529 college savings accounts, but don't want to deal with the volatility of stocks or bonds. Perhaps the beneficiary will need the funds soon, or you want the security of FDIC insurance. Many students are now adults saving for their own educations in a few years. In this case, consider the Virginia CollegeWealth 529 Savings Account and its following features:
FDIC-insured through partner banks
$25 minimum to open
No annual fee
No monthly maintenance fees
No state residency requirements
Up to a $4,000 state tax deduction for Virginia taxpayers
High interest rates of up to 2.25% APY
Deposit details. The FDIC insurance coverage is $250,000 per account owner, per bank. All Virginia College Savings Plan 529 Accounts have a maximum aggregate contribution limit per beneficiary of $350,000.
Will the interest rate stay high? It is important to note that this is a savings account and not a certificate of deposit (CD), so the interest rate is subject to change at any time. If you are willing to commit to a 5-year CD, the Ohio CollegeAdvantage 529 has 5- to 12-year CDs paying 2% APY right now.
However, looking through old documents indicates that the interest rates that you see today for BB&T Bank have been the same at least as far back as June 30, 2011 (source, also checked in 2012 and 2013). That means BB&T's rates have been the same for nearly four years during a period of historically low interest rates. I think that should provide some measure of confidence that the rates won't drop dramatically the day after you open the account.
For Union Bank, rates have been slightly higher in the past (2.5% APY in 2011, 2.3% APY in 2012). Not a huge drop over time but interesting that Union Bank used to be higher but now BB&T is higher. I'm assuming you can also switch internally between these two banks. You can also roll over your assets into another 529 plan in the future, if you wish.
Partner banks and current rates (as of March 4th, 2015)
Union Bank & Trust
Balances of $1 to $9,999: 1.75% APY
Balances of $10,000 or more: 2% APY
Balances of $1 to $9,999: 2% APY
Balances of $10,000 to $24,999: 2% APY
Balances of $25,000 or more: 2.25% APY
Best high-yield savings account, period? In a weird twist, you can put money in a 529 and take an unqualified withdrawal where you'll be subject to income taxes and an additional 10% penalty on any earnings . But you'd have to pay income tax on interest from a normal savings account anyway. That means you could treat this account like a regular taxable savings account and get an effective rate of 1.8%+ APY even after any penalties. That is nearly a full percentage point higher than my current Ally Bank high-yield savings. I don't know how many people have actually taken advantage of this "loophole" option, but it is interesting. One possible drawback is that it can take longer (possible weeks) to withdraw money from a 529 than from a traditional bank account.