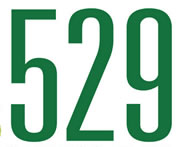 I'm finally getting around to setting up 529 college savings plans for my kids. It remains my opinion that you should make sure your retirement savings are on track before worrying about college savings. The government let me borrow over $50,000 in student loans for college, but they won't let me do that again for retirement.
(Related: Top-ranked nationally-available 529 plans and state-specific tax benefits.)
Other than deciding how much money you'll contribute, the big question is what do you invest it in? The most common default investment choice is an all-in-one fund that adjusts automatically based on the age of the beneficiary. Essentially, a tweaked target-date retirement fund. Under this model, each child of different age would then have their own standalone asset allocation.
However, I ran across an interesting discussion on the Bogleheads forum where some people used their 529 plans as an extension of their primary retirement portfolios. As the 529 offers tax-deferred growth and tax-free withdrawals for qualified educational purposes, you could treat it like an IRA and put some tax-inefficient assets inside. For example, I could squeeze in some riskier stuff like real estate (REITs), small value stocks, and/or emerging markets stocks for a couple of decades. Or safe stuff like TIPS. You wouldn't have to adjust for beneficiary age, just rebalance things whenever you spend it down.
This gets a little tricky because even if you start early, you're typically going to save up a bunch of money over 15-20 years and then spend it all within 4 years. Contrast this with retirement, where you typically save up over 30-45 years and spend it over another 20-35 years. Also, if you don't spend the funds in a qualified manner, your withdrawals may be subject to both income tax and an additional 10% penalty.
In my opinion, an important factor to consider is your personal tuition assistance philosophy.
Are you going to cover a certain percentage of your child's tuition, no matter what? Some parents will promise to cover 50%, 75%, or 100% of college expenses, regardless of actual 529 balance. In that case, the 529 plan is less of a savings bucket as it is just another way to gain some extra return via tax sheltering. Perhaps then it makes sense to consider your 529 as a piece of the bigger picture.
Let's say you invest solely in 100% risky stocks for the entire 15 years, and there is a last-minute crash where you lose 50% of your value. If your final 529 balance is much less than expected, the rest of your portfolio probably did better and you can fulfill your commitment with other assets. (The same thing could happen if you invested solely in 100% safe bonds. The return might be so low that your final balance is quite disappointing.)
Are you treating the 529 plan as a piggy bank? "Here, I saved this much money for you. You handle the rest." In this case, you are setting aside a fixed amount, labeling it "college funds", and you're done. It is separate in your mind. So why not invest it separately? You probably do want to make your investments diversified initially and also more conservative as your child gets close to college. Having the value drop in half at the very end could force your child to take on a significantly larger amount of debt.
After some thought, I am taking a hybrid approach. I am committed to covering at least a "good chunk" of my kids' college expenses, without limiting it to a fixed amount. (I won't guarantee 100% as I am wary as to how colleges use their huge sticker prices.) First, we have the financial means, even if it means working a little longer. Second, we feel an obligation to pay it forward because my parents covered a big portion of my own tuition and my wife's parents covered all of her tuition. My goal is to have my kids feel free to take some career risk in their 20s, although I am not opposed to them having a little debt ("skin in the game").
My plan is to make my 529 a miniature copy of my retirement portfolio. If my retirement portfolio asset allocation is 60% stocks and 40% bonds, then the 529 portfolio will also be 60% stocks and 40% bonds. So the 529 will be a standalone portfolio, but it will grow at the same rate as my retirement portfolio. Once the time comes, I will spend the 529 money and also withdraw from my retirement portfolio if needed (hopefully not). However, in the meantime, I won't have to constantly rebalance across two additional smaller accounts.
My kids are 1 and 3 right now. I plan on keeping my cloned asset allocation setup for at least the next 10-12 years, and then taper down over the last 5 years so that it is 100% cash or short-term bonds by age 18. This differs from most age-based default options offered, as they taper steadily over the entire 18-year period. More details on why I like my way better in Part 2 tomorrow.