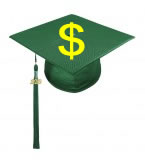 Right now, freshmen are moving into dorms all around the country and parents are scrambling to pay the bills. I've written about how many students don't pay sticker price on college tuition, but I recently ran across another statistic that tracks the phenomenon. It's called the tuition discount rate. The version compiled by the National Association of College & University Business Officers (NACUBO) uses this definition:
Tuition Discount Rate: Institutional grant dollars as a share of gross tuition and fee revenue for first-time, full-time freshmen […] gathered from 400 private, nonprofit four-year colleges and universities
Basically, this measures the upfront tuition discount given directly from private universities, thus excluding outside scholarships, tax breaks, or subsidies. The NACUBO tuition discount rate for 2012 was 45% and has risen every year for the last six years. From digging around their website, from 1990 to 2002 the average tuition discount rate increased from 26.7 percent to 39.4 percent. Then things stabilized somewhat until it started rising again in 2007. In rough numbers, over the last 15 years the discount rate doubled from 25% to 50%.
Despite all the stories about tuition hikes, the fact is that many colleges that lack elite status (and huge endowments) are struggling to make money while maintaining the overall quality of their student body. Their solution appears to be to raise the sticker price while offering deep discounts at the same time, usually on a sliding scale based on student attractiveness. This Forbes article talks about schools so desperate that let students walk up weeks before school starts and get an admission decision on the spot.
Let's say three private schools have a tuition sticker price of $50,000. The way it has been explained to me is that a student may get stuck with "retail" price at their stretch school, a $10,000 grant at a mid-level school, and $30,000 grant at a less-prestigious school. So now the parent and child have to figure out which one is the best value. While this has always happened to a certain extent, it appears much more pronounced now.
You also have to wonder how income comes into play as well. Even though admissions may claim to be need-blind, it is often smack on the top of your application as part of a "diversity" measurement. Does hiking the sticker price allow colleges to admit less-qualified rich kids willing to pay full price in order to fund the bottom line? Meanwhile, it seems that if a college "really" wants you, they won't just offer admission but a big discount as well. This is a stat to keep an eye on.