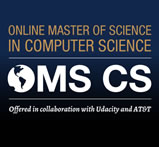 The Georgia Institute of Technology and Udacity.com are partnering together to offer an accredited master of science degree in computer science (press release). What makes it special is that this MSCS will be from a top-tier university, 100% online, and the full tuition cost for all coursework will be under $7,000. Georgia Tech believes that it can pull this off due to advances in technology and the resulting ability to maintain an instructor:student ratio of 1:100 rather than 1:10.
Anyone can take the courses online, but if you want the accredited degree and grades you'll still need to gain admission into the program. As AT&T is funding the 2014 pilot program, it appears that most initial students will be from AT&T and other corporations affiliated with Georgia Tech, with enrollment hopefully ramping up in future years. Still, this is a big step in the evolution of online education, and especially good news for those looking to get further education but can't afford to be a full-time on-campus student.
More news coverage: Forbes, WSJ
If this is successful, it'd be natural to wonder about a cheap, 100% online bachelor's degree from a major public university (not some regionally accredited/for-profit diploma mill). I can't help but keep recall this excerpt from Is College a Lousy Investment? by Megan McArdle:
In Academically Adrift, their recent study of undergraduate learning, Richard Arum and Josipa Roksa find that at least a third of students gain no measurable skills during their four years in college. For the remainder who do, the gains are usually minimal. For many students, college is less about providing an education than a credential—a certificate testifying that they are smart enough to get into college, conformist enough to go, and compliant enough to stay there for four years.
Will such online degrees maintain the same prestige just with a lower price tag, or will it just devalue the entire concept of having a degree even further? Or will an on-campus degree always be seen as better?