Last week, I shared a chart that showed how a diversified portfolio that was rebalanced regularly still managed to nearly double in value over the last decade. Here's another similar finding based on the David Swensen portfolio as compiled by an advisor group called ETF Portfolio Management.
Swensen manages the Yale University endowment and wrote an excellent investment book called Unconventional Success (my review) directed towards individual investors. Even though he does active management himself, he explains why low costs and low turnover are critical, how certain asset class are better than others, and why rebalancing regularly is important. He ends up providing a model portfolio made up of what he calls "Core" asset classes. Here's the slightly updated David Swensen Portfolio with his recommended 70% stocks / 30% bonds breakdown. Actual low-cost index ETFs are included via ticker symbols.
30% Domestic US Equity (VTI)
15% Foreign Developed Equity (VEA)
10% Emerging Markets (VWO)
15% Real Estate (VNQ)
15% U.S. Treasury Bonds (IEF)
15% Inflation-Protected Securities (TIP)
Instead of the Total Bond Index from last week, which include everything from Treasuries to corporate bonds to mortgage-backed securities, the Swensen bond allocation only has nominal and inflation-linked Treasury bonds. The chart below shows the growth of $1,000 invested this way (eMAC) at the start of 2001 until the end of July 2011. (Last week's chart included the start of 2000 to end of 2009.) The ETFs listed above were bought and rebalanced annually. eMAC stands for "efficent multi-asset class".
Again, we see that the diversified and rebalanced portfolio has done well over the last 10 years, more than doubling in value. Check out their annual returns breakdown (summarized below), and you can see how in any single year different asset classes will have different returns. Some go up, some stay steady, some go down. This lack of strong correlation is what helps smooth out your portfolio, and makes you feel better that at least something is doing okay at any given time.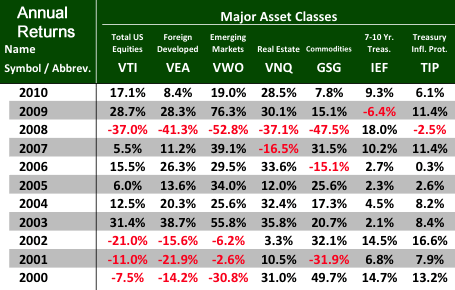 Now, this may not be the ideal portfolio going forward. Nobody knows the future, you can only do what you think gives you the best odds for success. But it does serve as another real-world example of how low-cost diversification works and that you should have good reasons for holding each of the asset classes that you buy.
(The "HF Index" indicated stands for the Dow Jones Credit Suisse Hedge Fund Index, which claims to track ~8,000 hedge funds and thus tracks overall hedge fund performance. After poking around their website, the returns seem to be net of manager fees.)