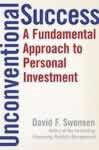 One of the books I am currently reading is Unconventional Success: A Fundamental Approach to Personal Investment by David Swensen. He is a very successful institutional money manager, having guided the Yale University Endowment to over 16% annualized returns over 20 years. While he has already written a bestselling book about institutional fund management, Pioneering Portfolio Management, this newer book outlines his investment advice as tailored for individual investors. I'm not finished with it yet, but so far I am very impressed. This is one of the few people in the world who could easily say "Here's how anyone can beat the market!", but instead he presents a unique argument for building a portfolio using low-cost, diversified, passive components.
One of the ways he separates himself from others is his definition of "core" asset classes in which to invest. Briefly, core asset classes share three main characteristics:
They rely on market-generated returns, not from active management skill (as it is a very rare attribute and hard to separate from luck).
They add a valuable and differentiable characteristic to a portfolio.
They come from broad, highly-liquid markets.
The six core asset classes he identifies are:
Domestic Equity
Foreign Developed Equity
Emerging Market Equity
Real Estate
U.S. Treasury Bonds
U.S. Treasury Inflation-Protected Securities (TIPS)
These are all pretty well-accepted asset classes. The surprise comes when he tells you where you shouldn't invest. Here are the non-core asset classes which Swensen believes fail to satisfy one or more of the criteria above:
Domestic Corporate Bonds
High-Yield Corporate Bonds
Asset-Backed Securitiesl (like GNMA mortgage-backed bonds)
Tax-Exempt Bonds
Foreign Bonds
Hedge Funds
Leveraged Buyouts
Venture Capital
Many of these asset classes are very popular! Take corporate bonds. While I can't present the argument nearly as well here, the basic idea is that they don't satisfy the "valuable and differentiable" requirement above. People buy corporate bonds over Treasury bonds because they can get a higher yield. But Swensen argues that the slight premium is not enough to compensate for the additional credit risk, lower liquidity, and callability of such bonds. One source of this imbalance is the fact that the interests of the bond issuer (the corporation) are inherently at odds with the bond investor. The corporation wants to minimize the cost of it's debt, while the bond holder wants the opposite. Compare this with the situation of a stock holder, where both want the company share value to increase.
Possible Portfolio Changes? If you invest any bond mutual funds, you may want to find out what percentage of those funds are in corporate bonds and asset-backed securities. For example, the Vanguard Total Bond Index fund (VBMFX) holds almost 45% in mortgage-backed bonds and only 35% in Treasury bonds. Of course, many young folks don't have any bonds at all, so this may be a low priority.
Personally, my small bond allocation is 100% in corporate bonds. I always thought that bond markets were very efficient in dealing with credit risk, and that duration and sensitivity to interest rates mattered more than the type of bond. I will have to do more reading on this topic, but it may be more prudent to switch to Treasury bonds/TIPS and instead take any additional risk by adding more equities exposure.