If you don't know the name David Swensen, he is an investment manager who is best know for managing Yale Universities huge endowment. What makes him interesting is that even though he does invest in some hedge funds and private equity, he doesn't believe that the common investor should try to emulate this. An excerpt from a recent interview in the Yale Alumni Magazine sums it up:
That's why the most sensible approach is to come up with specific asset allocation targets that you can implement with low-cost, passively managed index funds and rebalance regularly. You'll end up beating the overwhelming majority of participants in the financial markets.
In his 2005 book Unconventional Success: A Fundamental Approach to Personal Investment, he proposed a model asset allocation using what he believes are the 6 "core asset classes" that an individual investor should own: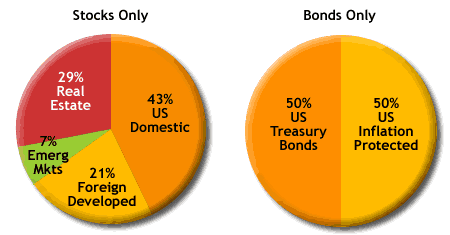 Asset Allocation For 70% Stocks/30% Bonds (with ETF examples)
30% Domestic Equity (VTI, IYY)
15% Foreign Developed Equity (EFA, VEA)
5% Emerging Markets (VWO, EEM)
20% Real Estate (VNQ, ICF)
15% U.S. Treasury Bonds (SHY, IEF)
15% Inflation-Protected Securities (TIP, IPE)
But in the Yale interview, he proposes a slight change that reduced real estate exposure in exchange for increased emerging markets holdings:
Today, Swensen says, economic conditions might call for a modest revision. He now recommends that investors have 15 percent of their assets in real estate investment trusts, and raise their investment in emerging-market stock funds to 10 percent.
This interview was printed in March/April 2009, so I'm not sure if you could call this performance chasing or not. I don't follow his model asset allocation exactly anyway – I think the best idea is to read his excellent book and find out his reasoning for holding each asset class. The exact weightings you can hash out later. It definitely added another dimension to my investing views.