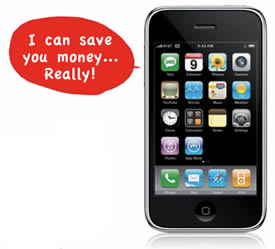 No, I didn't get an iPhone. But I did get an iPod Touch over Thanksgiving weekend. (Hurray for Amazon matching Apple Store Black Friday prices!) I know, I know, as a financial blogger I'm supposed to shun such trendy toys, but it was a gift! My parents got one for my sister as well as themselves, and I am assigned to teach them how to use it when I visit in December.
(I'm excited because my HTC TouchPro2 with my $30 Sprint SERO can be hacked to share it's 3G connection as a WiFi Router, so I can get my iTouch online anywhere I have cell coverage. Nearly an iPhone!)
Another perk is that now I can review all those personal finance apps out there. I know there are a lot of budgeting apps, the Mint.com app, and various ones for banks and brokerage companies.
What are your favorite apps? Which ones were worth the money, and which ones weren't? Which free and non-free apps would you like me to review? Share in the comments below.