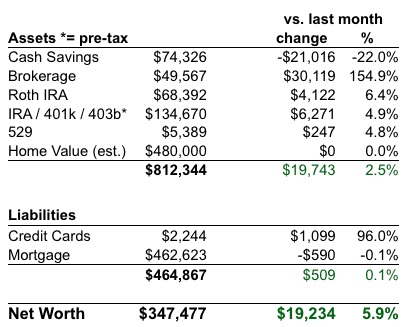 Wow, December already…
Credit Card Debt
Up until now, I have taken money from credit cards at 0% APR and placed it into online savings accounts, bank CDs, or savings bonds that earn up to 4-5% interest (less recently), and keeping the difference as profit. However, given the current lack of good no fee 0% APR balance transfer offers , I am no longer playing this "game". The balance that you do see is either before the end of the statement or during the grace period, where I'm also not paying any interest.
Retirement and Brokerage accounts
Mrs. MMB and I have both maxed out our 401k salary deferrals for 2009. We have also started to invest in regular taxable accounts by investing $30,000 that was previously being held as cash. I'll outline the trade activity in an upcoming portfolio update.
Our total retirement portfolio is now $231,368 or on an estimated after-tax basis, $191,475. At a theoretical 4% withdrawal rate, this would provide $638 per month in after-tax retirement income, which brings me to 26% of my long-term goal of $2,500 per month.
We are also getting ready for a Traditional-to-Roth conversion once the income limits are removed in 2010. We'll need to gather up some information in order to see how much tax we owe on any gains. More details on this to come.
Cash Savings and Emergency Funds
We keep a year's worth of expenses in our emergency fund. Potential large expenses include $10,000 for home improvement projects (minor roof repair and solar water heating), as well as $15,000-$20,000 on a new car to replace our 1995 Nissan. Hope it can last us 15 years as well!
Home Value
I am no longer using any internet home valuation tools to track home value. Some people have suggested using my tax assessed value, but I also think that is too high. I simply picked what I felt is a conservative number based on recent comparables, $480,000, and keep it for at least 6 months if not a year. (Currently on month 3 out of 6.) For the most part I am concerned about mortgage payoff, which I still plan to accomplish in 20 years at most.
You can view previous net worth updates here.