Businessweek has an article discussing the difficulties when trying to make a retirement nest egg last for the rest of your life. Most people just worry about the average returns of their investments. But another important concern during the withdrawal phase is sequence of returns risk.
Two retirees can start with the same initial portfolio balance and experience the same average return, but if one experiences highly negative returns in the first few years of withdrawals they can end up with very different outcomes. Instead of explaining this concept with a list of numbers, here is a graphical version from the BW article. Both Jane and John start with $1 million, experience 7% average returns, and take out $50,000 a year with a 3% increase each year for inflation.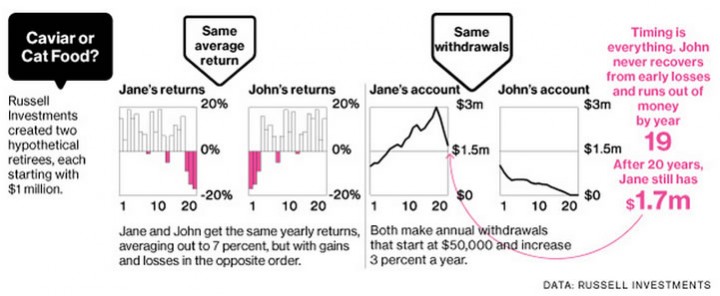 Jane ends up 20 years later with $700,00 more than she started, and John is flat broke. Although the sequence of returns shown is a bit extreme, they are simply mirrored and it is still entirely possible.
Some people take this to mean that you shouldn't retire when the market has been on a good bull run, but I think the point is that you simply don't know what order your future returns will be. The bull run could keep on going and create a bubble, and then pop many years later. Or something like a declaration of war could crush the market even further even if things have already been bad for a while.
Briefly, a couple of options that can help alleviate this sequence of returns risk are a dynamic withdrawal strategy that continually adjusts to actual returns (no set number every year), and also annuitizing part of your portfolio using a single-premium immediate annuity. Finally, don't forget the traditional advice of holding a sizable chunk of quality bonds in your portfolio.