Added bonus for new sign-ups. I've been a registered member of RealtyMogul for a while, and they recently emailed me that if I referred a friend, we'd both get a $150 Amazon gift card just for completing the registration process (i.e. zero investment required). Here is a screenshot. The restriction is that you must be an accredited investor, which means either a single income of $200,000, joint income of $300,000, or net worth of $1 million excluding primary residence. I've registered at a few of these sites, and you may need to send in a scanned W-2 (was allowed to remove SSN) or brokerage statements for verification.
This is a nice carrot if you are already interested in hard money lending or fractional real estate ownership. You must either use this special sign-up link or use the promo code JONATHANP7 during registration. Offer expires 12/31/15.
*The referrer and the referred will each receive a $150 gift card (redeemable at Amazon.com) upon successful completion of the investor registration process at RealtyMogul.com by the referred party. Gift cards will be mailed within 30 business days to the address on file. This promotion is limited to 6 referrals per referral code and is only valid until December 31, 2015.
Original post from mid-2013 below:
Realty Mogul is a new "crowdfunding" start-up that lets you invest in residential investment property for as little as $5,000. You either take a partial ownership position in a property, or you become a lender to (experienced) house flippers. The new thing here is that you can do it completely online with a few mouse clicks (no mortgage brokers, real estate agents, or tenants) and again that low minimum $5,000 investment. (Thanks to reader Johnson for the tip.)
Taking an equity ownership position means that you own a little slice of a single-family home or multi-unit complex while a professional does the buying, fixing up, renting out, and eventual selling. Realty Mogul only has done one deal like this so far (fully funded) and the intended timeframe is 5-7 years. You earn rent while the house hopefully appreciates in value, and cash out when the house sells.
Being a lender looks very similar to the age-old practice of hard money lending, just with smaller chunks. You lend the money to a house flipper who needs a short-term loan (3 months to a year) and doesn't want to deal with traditional mortgage lenders and their closing costs and long underwriting delays. The loan is backed by a personal guarantee (not too special, you can try to sue and/or hurt their credit score) and more importantly you usually have a first position lien on the property (if they don't pay, the lender gets the title to the house). Most of the previously funded loans have an annualized interest rate of 8%.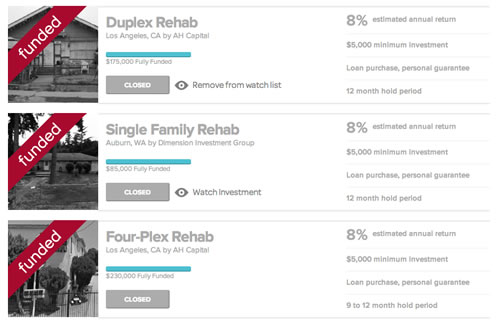 Realty Mogul states that they differentiate themselves from other similar startups like FundRise and Prodigy Network by (1) outsourcing the real estate expertise to vetted professionals and (2) keeping a focus on cashflow, either via rent or interest payments. Right now they've only had about 7 investments, but they seem to open a new one up after the last one fully funds.
Currently, the SEC limits this type of investment to accredited investors, which means either a single income of $200,000, joint income of $300,000, or net worth of $1 million excluding primary residence. When I tried the application, the only screening process was to check a few boxes and state that you qualify. Supposedly, the recently passed JOBS Act will allow them to drop this requirement later this year.
If given the option, should I drop $5,000 into this to try it out just like with person-to-person lending? $5,000 is still a lot of money to put into an investment where you are not able to do much due diligence. Getting good returns on a single investment project is all about the skill of that particular rehab team. Will the teams that sign up for capital via Realty Mogul always be the good ones, or those that are having a hard time getting funding from elsewhere? I thought that hard money lending rates were more in the 10%+ range; I don't know if I'd be happy with 8% but maybe that's the going rate now. Even if you have collateral, recouping your principal in case of a bad loan can get complicated and time-consuming. At least with P2P lending I can spread $5k over 200 different loans such that even though I am certain to get some defaults, it is unlikely I will get a negative return overall.
More: TechCrunch, LendAcademy, BizJournals, The Verge