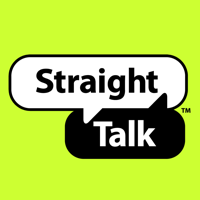 Straight Talk is a prepaid MVNO that offers the ability to buy SIM cards that you can pop into any AT&T-compatible, T-Mobile-compatible, or unlocked GSM phone. This includes many Samsung Galaxys and iPhones that you can buy refurbished or on the used market. For $45 a month you get unlimited minutes, unlimited text, and 5 GB of high-speed data with no contracts and no credit checks. You also avoid the usual cell phone taxes that can add $5 to $10 per line. Unlimited data means 3G/4G data speeds for 5 GB per month (recently improved from 2.5 GB) and then 2G data speeds after that.
$45 a month is the everyday price. Last year, there was a nice promo that let you buy 4 months of the Straight Talk unlimited plan for $26 a month, a significant 42% savings off the regular price. I'm actually just updating that old post here and pruning stale comments.
Right now, you can buy 8 months of the Straight Talk unlimited plan for $22.50 a month. To access this promo, either try clicking on this promo deep link or entering your info at this promo intro page. You should see the following offer text in red:
For Limited Time only get a FREE SIM + FREE Service Plan Card with the Purchase of a 30 Day Service Plan Card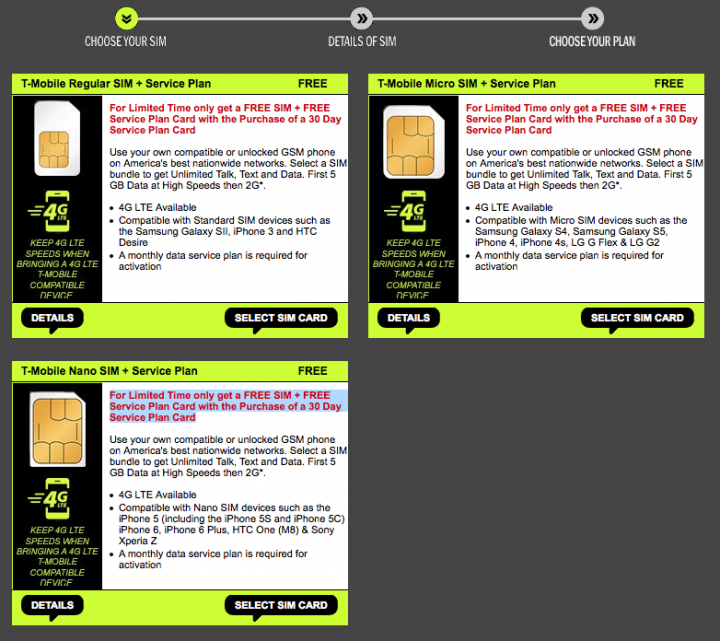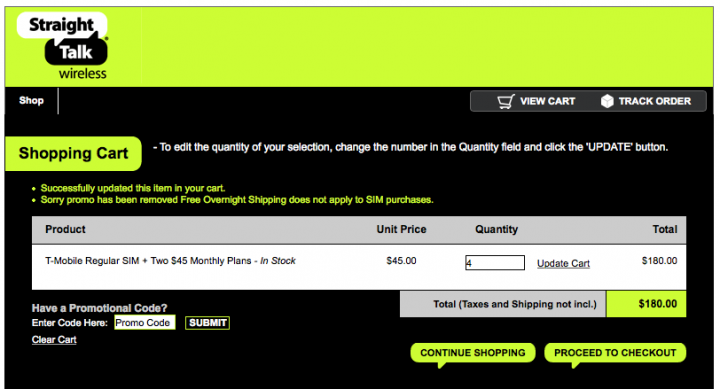 Each package includes 2 monthly plan cards, and you can buy 4 packages for a total of 8 months for $180 + taxes and shipping where applicable.
While the link only let you buy a T-Mobile SIM card as part of the package, the actual monthly plan cards can be activated with any provider SIM. They also sell AT&T SIM cards on the same website, if you prefer that.
You can also try to stack with cashback shopping portal. For example, BeFrugal.com normally offers $30 cashback for airtime + SIM purchase. BeFrugal also has $10 bonus for new customers that earn $25 in cashback. See reader Shoe's comment.
If your desired SIM size is sold out, know that you can buy a simple $4 SIM cutter which can cut any SIM card into a micro SIM or nano SIM. (Or a $4 SIM adapter will make a nano into micro or regular SIM.) You may have to use a bit of sandpaper as well for the nano SIM as they are a little thinner than regular SIMs. Read the reviews, they work.
You can also check back later to see if they restock, but I'd rather just lock in the savings with whatever SIM is in stock.
Finally, the $60 international cards are also buy 1 get 1 free, making them $30 and still cheaper than the $45 plan. The $60 plan has the features of the $45 plan plus unlimited calling to Mobile in Mexico, China, India and Canada and some other features. So it's still a pretty good discount (33% off) if the rest are out of stock.