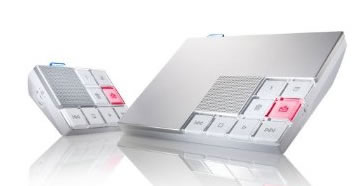 I replaced my landline with Ooma VoIP home phone service over 6 years ago and and haven't had a monthly bill since. This ended up being one of those deals where early adoption was rewarded. First there was no monthly fees, then it was about $1 a month, then about $3 a month. Today, buyers of the newest Ooma Telo are subject to the upfront equipment cost plus monthly taxes and fees of roughly $4.23 a month (varies by location). I've resisted upgrading to Telo as it would have forced me to give up my grandfathered monthly fee waiver.
If you are also a grandfathered Ooma Hub owner, you should check your e-mail for the following message titled "Important Service Update for Ooma Hub Owners". (Thanks to the readers who asked me about this offer, as I would have probably deleted the e-mail.)
As a valued Ooma Hub owner and one of our earliest customers, we'd like to thank you for your support over the years.

As you may know, we discontinued technical enhancements and customer support for the first generation Ooma Hub product over three years ago. Recently, we made several network infrastructure upgrades for our Ooma Telo product, which unfortunately could cause Hub users to experience reduced service reliability due to the firmware limitations of the Hub.

As one of our earliest customers, we'd like to offer a special opportunity to upgrade to our latest Ooma Telo device for just $79.99 with free shipping. Plus, we'll continue to waive the taxes and fees for the lifetime of your Telo device!1

When you upgrade to the Ooma Telo, you'll enjoy better reliability and voice quality with PureVoice. Ooma Telo also supports HD Voice, integration with Amazon Echo, additional connectivity options like Bluetooth and Wi-Fi, and support for our whole family of accessories such as the Linx and HD2 Handset.
Okay, so $80 will get you a new Ooma Telo box and continued no monthly fees for the lifetime of the new box. Is it worth the upgrade? Some considerations…
Pros
My Ooma Hub is now 6 years old, and the fee waiver is only for the lifetime of the device. This offer would get a a new device and thus a new "lifetime", which ideally would extend my fee waiver.
The Telo-exclusive features may interest you (better voice quality, Amazon Echo and Nest integration, Bluetooth and WiFi connectivity, Linx and HD2 accessories). Some folks seem to love their Amazon Echo, and using a wireless Bluetooth headset may offer valuable convenience.
Cons
It costs 80 bucks.
The warning of "reduced service reliability" is rather vague. I'm still satisfied with the current voice quality, although I am not a heavy user.
Is it possible that my old Ooma unit is more reliable than the new Telo? Or am I just pushing my luck? Running for over 6.5 years x 24/7 is pretty great. I have a Macbook from 2006 that still runs fine.
Telo Basic users have to pay extra for certain services that are included for free with Ooma Core/Hub including caller ID name (not just number) and e-mail alerts of new voicemails. It is unclear if this upgrade will cause us to lose these free features.
Bottom line. If you are a heavy Ooma user, it may be worth taking advantage of this offer to "future-proof" yourself for perhaps another 5 years or more. If like me you are a light Ooma user thanks to unlimited cellular minutes and/or robo-calling politicians, then a potential loss would not be as severe. The original Ooma Hub advertised "free monthly home phone service for life" (of the equipment), so I suppose I'll see how long that ends up being.