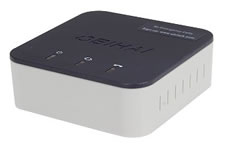 Updated. If you still like the idea of landline phone service and multiple handsets around the house, Obihai VoIP boxes are officially supported by Google Voice to provide unlimited free calls to the USA to Canada. That's totally free: $0 a month + $0 in tax and fees. Low international per-minute rates as well. All you need is a broadband internet connection and and a power plug (no computer).
Special offers. Get Obi200 for $39.98 when you use promo code OBIDEAL7 (expires 7/30/17). The seller should be Obihai Technology, Inc. at $49.99 before the coupon brings it down to $39.98 during checkout. There haven't been many deals on these boxes recently.
I bought myself a Obi200 in order to try out their free calls, and also compare the voice quality with my Ooma device. I thought about making a video, but it turned out to be unnecessary.
Open the box and plug in the cables. AC adapter, telephone line, and ethernet cable to router. All ports are clearly marked. All the cables are included except the phone cable which you should already have. The image below says it all:

Here is the back of the box, showing the ports:

Write down your unique Obi number. This is clearly printed on the bottom of the Obi200 box. Mine was 9 digits like "123 456 789".
Go to your computer and visit ObiTalk.com. Click on the link that says "Register" in the top right corner. Then just follow the directions. Dial a test phone number when it asks. It is easiest to use the "Sign in with Google Account" button since you already have one if you use Google Voice. I didn't even have to type in my password (as I was already logged in by cookie). They didn't require name, address, or credit card number. A few confirmation clicks, and that was it.

Use your phone. I turned on my phone, listened to the dial tone, and called my cell phone. Success! Traditional phone service with unlimited calls within the US and Canada for the great price of $0 a month. The voice quality was fine, and continued to be quite good for the few months that I was using it before giving it away. (I already have the grandfathered fully-free version of Ooma. The voice quality between the two was comparable.)
Total set-up time was under 10 minutes. If for some reason my directions don't work, check out the official Obi200 Starter Guide [pdf] or their extensive set of tutorials. You can also add e911 service for $15 a year.
Which Obi box model should I buy? I think the sweet spot for most people will be the Obi200, which supports T.38 faxing and has a USB port which can be used to connect to your router over WiFi using an OBiWiFi adapter.
The Obi202 offers two independent phone ports so you can use two different VoIP providers simultaneously (or you can have two Google Voice phone numbers). If you can find one on the cheap, the older boxes work too. However, note that Obihai has stopped supporting Obi100 and Obi110 with new development. Here is a handy comparison chart of the OBi100, OBi110, OBi200, and OBi202.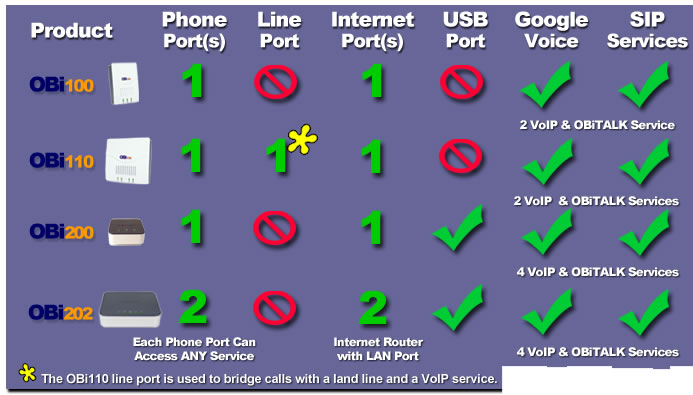 Bottom line. If you like the idea of having a landline-style phone service (multiple handsets around the house), this is a very good way to save money on your budget.