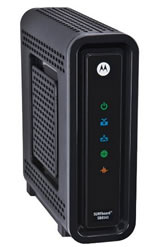 Updated. According to this CNN Money article, both Comcast and Time Warner are jacking up their modem rental fees again for 2015. Time Warner will now charge $8 a month, up 33% from $5.99. Comcast will now charge $10 month, up 25% from $8.
These fees are now so high that it is a "no-brainer" decision to buy your own modem. Unfortunately, many people either won't notice the fee or don't even know that bringing your own equipment is an option.
Being charged $8 a month is $96 a year. A quick look on the Time Warner Cable compatible modem list showed several models that can be found online at retailers like Amazon.com for under $50. (Here is the Comcast Xfinity compatible modem list.) And that's just for the basic model rental – the model with a built-in WiFi router costs another $4.95 a month – nearly $60 a year – while you can just buy a router for 20 bucks! Crazy.
For my family member paying for Time Warner, I stuck with a familiar name brand and picked the Motorola Surfboard SB6121 for $64.99 and free shipping. (The SB6141 at $80 is the next model up and compatible with the fastest speeds available, though you'll have to subscribe to one of the most expensive monthly plans.) Both are DOCSIS 3.0 which ensures future compatibility.
The installation process was quite simple:
Buy the modem. Wait for it to arrive. Remove old modem (unscrew cable cord and unplug power). Install new modem (screw in cable line and plug it power).
Call your provider or start a Live Chat session online. Time Warner is 1-800-TWC-HELP (1-800-892-4357), or pick the "Buy or Lease your Modem" option when chatting.
Provide them with the Cable Modem ID (MAC address) found on the back or bottom of your new modem. Wait 30 minutes or less and your high speed internet should be working again.
Remember to return old modem (this is really the hardest part).
Unless you plan on moving really soon, at $65 for the modem with free shipping you'd break even in less than 9 months. Even better, consider it a $65 investment that distributes $8 of tax-free income every month. That's like earning 147% APY at a bank with a 0% tax bracket. You'd need $9,600 at 1% interest to earn $8 a month in taxable income.
Some people have accused Time Warner of making their cable internet speeds slower and/or experiencing service interruptions along customer service responses of "We can't help you, it's not our modem" after switching to their own modems. Share your experiences in the comments below.