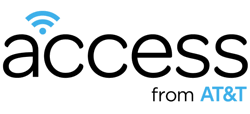 Access from AT&T is an affordable internet access plan for low-income households offered in certain areas with AT&T service. The cost is either $5 a month at 3 Mbps or $10 a month for 5-10 Mbps, depending on your area. According to their FAQ and press release, other features include:
No deposit required
No activation or installation fee
No contract
Free modem + WiFi router rental
Free access to the entire national AT&T Wi-Fi Hot Spot network.
However, note that AT&T will run a credit check. I don't quite understand the reasoning though, as they state it won't affect your eligibility. From their website:
As part of standard AT&T policy, all orders for new service are subject to a credit check. Results of the credit check will not impact your ability to obtain Internet service under the Access program from AT&T.
Qualifying households must have:
At least one resident who participates in the U.S. Supplemental Nutrition Assistance Program (SNAP) and
An address in AT&T's 21-state service area, at which we offer wireline home Internet service, and
No outstanding debt for AT&T fixed Internet service within the last six months or outstanding debt incurred under this program.
California residents also are eligible if:
At least one member of your household receives SSI benefits; and
At least one of the Access from AT&T Internet speed tiers is available at the address where you live.
You can apply for the Access by AT&T program here. You can also learn more by calling AT&T at 1-855-220-5211 for assistance in English or 1-855-220-5225 for assistance in Spanish.
I am not applauding AT&T for this effort, just promoting its availability. AT&T agreed to offer this service as a condition of their merger with DirecTV. I think people should take advantage of it if it works economically for them. However, I see no evidence that AT&T did this for charitable reasons. They are only doing the bare minimum required by law. I think they are rightly being criticized for not offering this affordable plan in areas where they have speeds lower than 3 Mbps.
Also see: