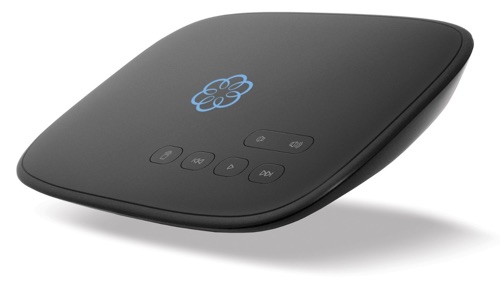 The Ooma Telo is a VoIP system that creates a home phone service through your broadband internet. Just plug in your regular landline phones and go. Features include unlimited domestic long distance, 911 service, caller ID, voicemail, and call waiting. In addition to the one-time purchase price, new customers must pay a share of government taxes and regulatory fees that works out to around $4.32 a month.
Consumer Reports rated it their #1 home phone service in their June 2012 issue. Here is a public Consumer Reports review video:
My Long-Term Review
I bought my system in December 2009 for a then-good deal of $158, and I remembered worrying about the FCC shutting them down because I couldn't believe their business model could be so cheap over the long haul. Well, I've now gotten over 6 years of home phone service for that $158, working out to under $2 a month. (Early adopters with the original Core system were grandfathered out of tax recovery charges.) It appears now that as long as the government gets their share of phone taxes and fees, they won't be shutting down Ooma any time soon. I'm glad I spent the extra $40 to port my previous landline phone number.
The best compliment I can give about the Ooma system that I don't even notice that it's not a landline. It just works. In my entire time of ownership I remember reading about a few hours of downtime in the middle of night, and nothing within the last year. The call quality is always great, and I can even use my fax machine with it. In some ways it's even better than my old landline, because I can get e-mail notifications of voicemails and then listen to them on my computer or smartphone.
The "unlimited" phone service technically has a limit of 5,000 minutes per month under the explanation that it is meant for personal use. That works out to an average of nearly 3 hours per day, every day, so that's close enough to unlimited for me. They do regularly bug you to upgrade to their Premier level of service which has added features for another $10 a month, but I've never felt the need to. Just make sure your number is on the Do Not Call list and you should be fine.
VoIP home phone service is best for those people who make a lot of calls at home. I worry about accumulated cell phone radiation when making a lot of calls on my iPhone, and thus always use a headset and keep the (hot) phone away from my body. Ooma helps alleviate that concern for long phone calls.
I would pick Ooma over other costlier alternatives like Vonage any day of the week. A possibly cheaper alternative is the Obihai + Google Voice combo, but it is dependent on Google continuing to provide free phone service every year. Another option that I have not tried is MagicJack Go which includes a year of free service but after that costs about the same as Ooma (~$3 a month). Whenever possible, lower those recurring monthly expenses!
Current Ooma Deals
Update: As I am an existing user, there is a refer-a-friend promotion right now where new Ooma customers can get Amazon gift certificate via my referral link when you buy direct. Compare with Amazon's price on Ooma Telo. I've been using Ooma now for over 7 years!