Update July 2021: HM Bradley has stopped accepting new customers temporarily due to overwhelming demand, unless you get a referral from an existing customer (each existing customer has 3 invites). You may share your invite link in the comments below if you wish.
Original post:
HMBradley is a fintech bank startup that differs by offering customers a variable interest rate based on their savings rate. Deposits are FDIC-insured through Hatch Bank. As of July 2021, the top rate is 3% APY, which is over 2% higher than the popular online savings accounts like Ally Bank, Capital One, or Marcus. Is there a catch? What's the fine print? Here's my review of HMBradley after opening an account and reading their FAQ, fee schedule, and other fine print. Thanks to reader Guarav for the tip.
Rate tiers. Interest is earned on balances up to $100,000 and is set each calendar quarter. The interest rate updates for all customers at the beginning of each calendar quarter: January 1st, April 1st, July 1st, and October 1st. In order to qualify for a "Savings Tier", you must receive a direct deposit at least once every month and save at least 5% of your quarterly deposits.
New customers start in Tier 3 and stay there as long as they maintain at least one direct deposit per month. For example, if you open in October, the next reset date would be January 1st and your interest earned for the next 3 months is based on your activity in the previous 3 months. Here are the current rates for each tier: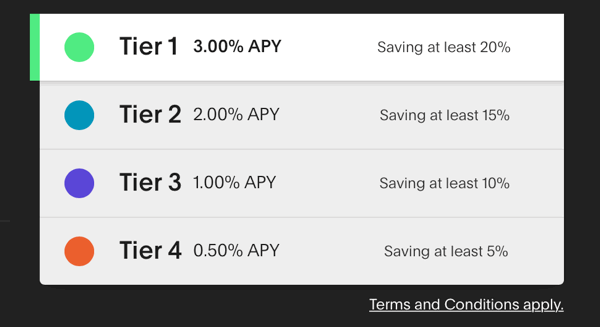 Requires a "real" direct deposit every month. You must receive some sort of direct deposit each month, as defined below:
For our accounts, we define direct deposits as those deposits made by the customer's employer or a federal or state government agency or retirement benefits administrator. These generally include payments made by corporations and other organizations. We do not consider deposits to an account that are made by an individual using online banking or other payment provider such as PayPal or Venmo as direct deposits.
They appear to be relatively strict on receiving a "real" direct deposit and not a person-to-person transfer. Based on my experience, they have a system for detecting incoming deposits and marking them automatically as "real", but it is not 100% accurate and your direct deposit may have to be reviewed manually. Their online account interface clearly tells you if you have made the required direct deposit for the current month (see screenshot below). If not, you should contact them in order for them to manually check and mark your transfer as a direct deposit. I have a legit employer direct deposit and had to ask them to manually review it. After that, they usually marked it as a direct deposit within 24-48 hours after arrive. (Due to the delay, I believe they still check manually.) Having it marked properly is required to get the top rate.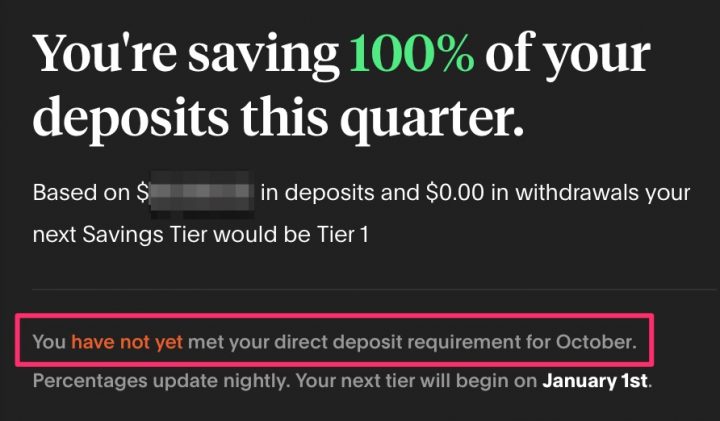 Savings rate is based on ALL deposits and withdrawals. For the calculation of "savings rate", all deposits are considered including incoming transfers from another personal bank account. At the same time, your "spending" will also include any transfer out of your account, even if it's just to another bank account that you own.
Basically, money has to keep coming into HMBradley and not go back out, if you maintain a positive savings rate. That's rather clever. They just have to maintain the high interest rates to keep reinforcing this cycle.
NOW account? No paper checks. It should be noted that HM Bradley's account is actually a lesser-known form called a "negotiable order of withdrawal (NOW) account", which per the CFPB which gives the bank the right to require at least seven days written notice of a withdrawal. Supposedly, this is rarely done in practice. Like a checking account, there are no limits on the number of withdrawals each month. However, unlike a checking account… there are no checks! I suspect that not having to deal with paper checks saves them a good chunk of money. I'm personally fine with that as long that equates to a higher interest rate.
The Bank offers Negotiable Order of Withdrawal transaction checking accounts, which allows you to make deposits by check, ACH payment, transfer from another account at the Bank, or wire transfer. NOW accounts only are available to consumers for personal, family, or household purposes. The Bank does not offer business accounts and you agree not to use your HMBradley Account for business purposes. The Bank may request 7 days' advance notice of a withdrawal or transfer of funds from the NOW account.
Credit card adds 0.50% APY. They recently added a credit card, but it is invite-only and based on their estimate of your income (which is in turn based on the size of your deposits, although you can attempt to self-report). See my HM Bradley credit card review. If you do get it, you can earn another additional 0.50% APY, for a total of up to 3.5% APY.
Additional features. No minimum balance, no monthly fees. $100 minimum to open. Interest is compounded daily and credited monthly. No paper checks. There is fee-free ATM access via your Debit Mastercard at over 55,000 ATMs in the STAR and MoneyPass networks (or at any store that allows for cash back on debit purchases). There is no online billpay ("coming soon") and there is no ability to deposit checks (remote deposit also "coming soon"). They may close your account without notice if you maintain a zero balance.
My thoughts. In the current rate environment, the ability to earn 3% APY on up to $100,000 is exceptional. I don't know of any "rewards checking" account has a balance limit of $100,000. This can be a good opportunity if you understand the rules and the top interest rate stays higher than the competition.
The idea of incentivized higher savings rates is good, but it may be a tough hurdle for those living paycheck-to-paycheck. On the other hand, as long as you can switch over a partial direct deposit, adding some consistent amount each month with minimal withdrawals would also work.
Bottom line. HMBradley is a digital bank startup that differs by offering customers a high rate (currently up to 3% APY) based on the percentage of their deposits that they save. They require moving over a monthly direct deposit, and the rules are a bit more complex than a simple online savings account, but if the rates hold steady it can be a very competitive offer for motivated savers.