Update May 2023: Rate tiers are now up to 4.50% APY. You may be grandfathered from the activity requirements until 6/30/23 if you were an existing user.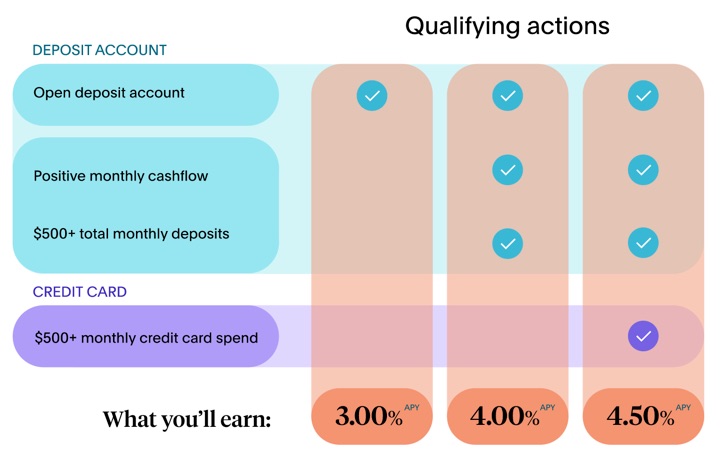 Older review, last updated October 2022:
HM Bradley announced several significant changes to their product (again). I've updated the review completely and removed all the historical changes as it was just getting too long.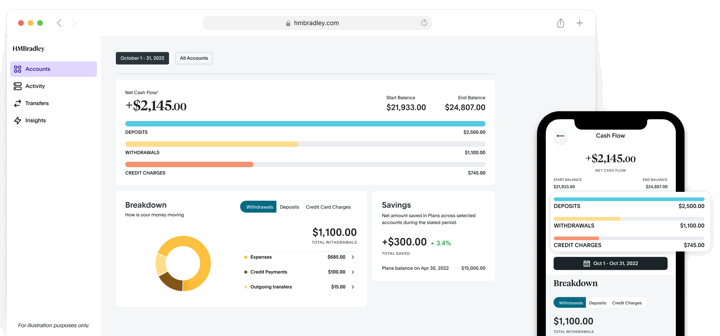 HM Bradley (HMB) is a fintech software layer on top of a partner bank's infrastructure. They are terminating their initial relationship with Hatch Bank at the end of October 2022 and changing completely over to New York Community Bank (NYCB). Existing HMB customers will need to open up a new account at NYCB before the end of October. HMB is also changing up their interest rate structure, but is offering a special intro offer to existing HMB customers. Detailed review below.
Rate tiers. Interest is earned on balances up to $250,000 with NYCB (up from $100,000 with Hatch Bank) and the rate you earn is set for the next month based on the current month's activities. Here are the current rate tier and requirements:
1.00% APY. All customers who open an HMBradley Deposit Account with NYCB will be rewarded with 1.00% APY. No other requirements.
2.00% APY. Customers who make a direct deposit of at least $500 per month to their HMBradley Deposit Account with NYCB and maintain positive monthly cash flow (meaning that monthly deposits exceed monthly withdrawals, not including HMBradley Credit Card payments) will earn 2.00% APY in the following month.
3.00% APY. Customers who fulfill the 2.00% APY requirements AND also spend $500 per month on their HMBradley Credit Card will earn 3.00% APY in the following month.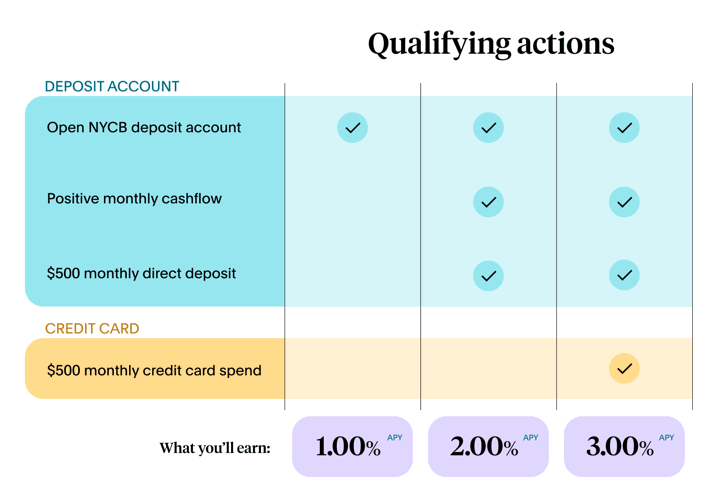 Limited-time offer to switch for existing customers. HM Bradley is waiving some of the requirements for new customers that signed up to switch by 10/31/22:
Any customer who opens an HMBradley Deposit Account with New York Community Bank (NYCB) before November 1, 2022, will receive Level 2 Annual Percentage Yield (APY) until April 30, 2023.
Any customer who opens an HMBradley Deposit Account with NYCB and has an HMBradley Credit Card in good standing before November 1, 2022 will receive Level 3 APY on the balance of the HMBradley Deposit Account with NYCB until April 30, 2023.
You'll have to start doing the requirements in April to get the higher rates in May 2023.
Requires a "real" direct deposit every month. You must receive some sort of direct deposit each month, as defined below:
For our accounts, we define direct deposits as those deposits made by the customer's employer, a federal or state government agency, or retirement benefits administrator. These generally include payments made by corporations and other organizations. We do not consider deposits to an account that are made by an individual using online banking or other payment provider such as PayPal or Venmo as direct deposits. HMBradley shall make the final determination as to whether a deposit qualifies as a direct deposit for purposes of qualifying to earn interest.
Based on my experience, they do have a system for filtering incoming deposits, but it is not 100% accurate and your direct deposit may have to be reviewed manually. Their online account interface should clearly indicate whether you have made the required direct deposit for the current month. I had to contact them in order for them to manually check and mark the transfer as a direct deposit. Having it marked properly is required to get the top rate.
Positive monthly cash flow is based on ALL deposits and withdrawals (except HMB credit card spend). For the calculation of "positive monthly cash flow", all deposits are considered including incoming transfers from another personal bank account. At the same time, your "spending" will also include any transfer out of your account, even if it's just to another bank account that you own. They don't count purchases made on your HMB credit card, which incentivizes you to use it – but conveniently they don't care about your credit card spending habits as long as you're using their card…
Basically, money has to keep coming into HMBradley and not go back out on a net basis every month. That's a very unique requirement, but also hard to keep up forever. Even if you are a diligent saver, you will want to redirect some of those funds into other assets like stocks, ETFs, real estate, etc.
Credit card details. The HMBradley credit card is invite-only and partially based on their estimate of your income (which is in turn based on the size of your deposits, although you can attempt to self-report). Invitations are not guaranteed. You must opt in to their "One Click Credit" service which basically checks your TransUnion credit report so they can market stuff to you (soft inquiries). If your TransUnion credit file is frozen, they will not offer you an invite. But once you officially apply, you will have a hard inquiry.
Starting at the October 2022 monthly billing cycles, the HM Bradley credit card is basically a flat 1.5% cash back credit card with no annual fee. Prior to this, it used to be a more complicated 3/2/1% rewards card with tiered categories and a $60 annual fee (waived for first year). 2% cash back would have been nice, but now it's just another vanilla mediocre rewards card.
Additional features. It's still not exactly clear how other basic features will change with the new NYCB accounts. ATM rebate policy? Well, right now, they don't even give you a debit card! This change seems a bit rushed.
Once you accept the new NYCB deposit account agreement and disclosures, we will ask you to agree to allow us to transfer your funds (including any funds in a Plan and accrued interest) from your deposit account at Hatch Bank to your new deposit account with New York Community Bank (NYCB). We will also provide you with your new account and bank routing numbers. You will want to use this information to change your direct deposit and recurring ACH transfers as soon as you can.

Unfortunately, we are unable to offer debit cards for new deposit accounts at this time. You will still be able to make ACH transfers, and we will let you know when a new debit card is available.
My thoughts. Interest rate changes are happening very quickly these days, and it is unknown how aggressively HM Bradley will keep up. If I didn't already have an HMB account, I wouldn't bother opening one up as the positive monthly cashflow requirement can get complicated if you save your money in different ways. I will be looking for them to raise their rates at least a bit more above the competition if I am going to keep jumping through that many hoops.