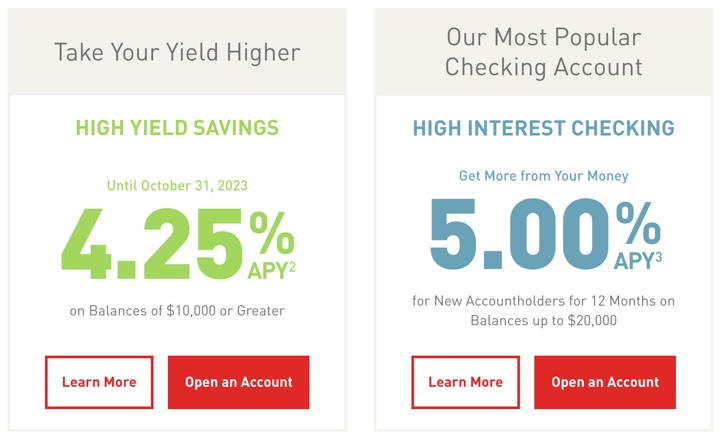 New promos with rate guarantees. Elements Financial Credit Union has a new rate of 4.25% APY on their High-Yield Savings on balances of $10,000+ (different from their Helium Savings). The promo rate is guaranteed until October 31, 2023. (Technically, it lasts until the 1st of the 12 month after you initial month, so actually between 11 and 12 months.)
There is also a promo rate of 5.00% APY on their High Interest Checking account, only valid on balances up to $20,000. Also for new accountholders only, with the promo APY fixed for 12 months from account opening date. Requires 15 qualifying transactions (such as using your debit card) every statement cycle. No monthly fee with electronic statements.
Note that their definition of qualifying transactions is also less strict than others. The following are qualifying transactions: Debit card purchases, checks, bill payments, ATM withdrawals and ACH withdrawals.
Per DepositAccounts, anyone can join with one-time $5 membership in Tru Direction, a not-for-profit organization dedicated to improving financial literacy. However, I couldn't find anything about this on their membership page, other than Elements will provide you with $5:
Open an Elements checking or savings account or apply for a loan or credit card. During the application process, we will open you an Elements savings account (that's the part that makes your membership official). We'll even put $5 in to get you started — no need to transfer funds from an existing account!
I'm not sure how I feel about this one. 5.00% APY on $20k is a nice number ($1,000 a year in interest), but I don't like having to remember the hoops for an entire year. They don't seem to treat their existing customers nearly as well as new ones. Some of you may have signed up back in September 2022 when they offered a guaranteed 3.25% APY for a year on their Helium Savings. Right now, that account would only pay 1.00% APY once the promo ends.