The following is a guest post is from Elle at Couple Money. They live on one income, and have fun with the second!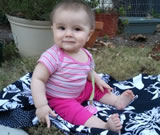 When I read MMB's questions about baby expenses, I shared a bit of our own experience with him. We are just a year ahead of him last summer we had our first baby, a little girl. It has been a wonderfully fun ride so far, with everyday bringing new milestones and challenges.
During the pregnancy my husband and I decided to track the baby expenses on Couple Money as we're going through this process. We're not the first parents to have questions about the finances of raising children, so I share our expenses and have asked others to give their input. Some wonderful bloggers have decided to join in the fun and share their own stories, tips, and advice on what works, what doesn't, and what's not worth stressing over.
Are Kids Really That Expensive?
For us, most of the expenses are just small bumps in our monthly budget. I think the main reason is that we made some financial decisions before we became parents that lent itself to reducing baby bills. For one thing, when we first were married we made it a family goal to keep all necessary expenses on 1 income. That allowed us to use the second income to pay down debts, save for goals, and invest for later.
Health Insurance and Doctor Visits
During the first trimester I was dehydrated enough that I needed to go to the ER to replenish; that was about $150 out of pocket. For the most part, though, my pregnancy had been uneventful. The health insurance policy we had when I was pregnant had a $2,500 deductible, so we saved a bit in our general funds to cover the deductible when our baby girl was delivered. Saving up to pay the bill in full allowed us to also get a 15% discount with the hospital.
Once our daughter arrived we quickly added her to my husband's health insurance policy. That's been the biggest change to our family budget – our premiums went up about $200/month for the family option.
Housing
No change in our housing bills. We bought our townhouse before we had our daughter. It had 3 bedrooms, so we converted the guest room into her nursery. We don't have any plans on changing our location, right now we're focusing on paying down the mortgage.
Daycare
I know that for many parents daycare is a huge expense. From what I saw last year it was about $1,200/month for an infant. Right now I work from home and our daughter stays with me. While it has cut back on the hours I work, the savings from not having her in daycare offsets it.
Food
Since we're breastfeeding our food bill has increased just a bit to accommodate the extra calories I need to keep up. Since becoming pregnant, we changed our eating habits a bit. We're focusing on making more meals at home and we a part of a CSA program with weekly deliveries during the part of the year. It's been helping to keep groceries manageable and we've also discovered new recipes and dishes. Our daughter has baby food and some of what we're eating in addition to breast milk.
Transportation
Even before we found out we were going to have a baby my husband and I were saving up for the vehicle as we're trying to avoiding taking out a car loan. However we saving up a bit more to purchase a family sized sedan, like a Sonata. Our budget is $10k for the next car. We have the money saved and we're currently searching for a deal. It's not an immediate need (tight fit in my Jetta, but fine), so we're going to make sure we look around a bit before securing the next car.
Clothing/Baby Gear
The first 2 months our bills were higher than normal as we bought a few items we didn't receive from the baby registry. We waited until our daughter arrived to see if we really needed them or if they were nice to have items. Fortunately most of the necessary stuff was already bought. After the first 8 weeks, our expenses have smoothed out.
We have received gifts from family and friends – both new stuff and gently used. We didn't have to buy a baby swing, since a buddy's son didn't seem to like it. It was practically new and our daughter loved it.
Right now diapers are about $20/month give or take through Amazon Mom and they are delivered right to our door. We get her wipes through Costco where a huge box costs about $20 as well (lasts a couple of months). Any clothes that she needs we pick at Target, Old Navy, or the consignment store around the corner. That's about $30/month.
Thoughts on Having Kids
This is just a snapshot of our family's baby expenses. As our little one gets older we know things will change. I'd like to hear from you – what expenses to you have to cover for your little one? What has been the biggest unexpected expense? What's been the best surprise?