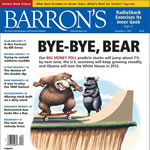 Weekly business newspaper Barron's recently released their 2012 annual broker survey rankings. A change from last year is that now the quality and availability of mobile apps for smartphones and iPads are now part of the criteria, as well as more attention paid to the ability to place transactions directly on international exchanges.
Barron's admits their overall rankings are based on the needs of their paying subscribers – namely "wealthy, active traders". As such, their overall winner was Interactive Brokers, which has an extensive feature set with low per-trade commissions but also requires a minimum opening balance of $10,000, a minium monthly fee of $10, and is lacking customer service especially for smaller investors.
I am not an active trader, I would say I do less than 50 trades a year mostly using ETFs. Based on no data whatsoever, I would guess that most readers here are also not active traders and don't need a full-service terminal with real-time streaming charts and complex options order-entry capability. (Although I know some of you are.) Now, I still like having real-time quotes, a nice user interface, and friendly service when I need it. So thankfully Barron's also ranked the brokers for other investing styles:
Top 5 Brokers for Novice Investors
TD Ameritrade. Notes above-average costs, but more features and good mobile app. Curiously, no mention of the 100 commission-free ETF list.
Capital One 360 Sharebuilder
Top 5 Brokers for Long-Term Investing
Fidelity – Notes good mix of reasonable cost, research tools, and overall usability.
TD Ameritrade
Top 5 Brokers for In-Person Service
Scottrade. Notes over 500 physical branches across US.
Merrill Edge
TD Ameritrade
I found it weird that they mention Scottrade's meager list of proprietary commission-free ETFs that nobody hardly uses, but completely ignore the fact that TD Ameritrade includes 100 of the world's largest and most heavily traded ETFs on their commission-free list. I guess they really are laser-focused on daytraders and people trading on Asian exchanges in the middle of the night.