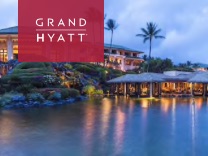 I'm not a Instagram travel blogger and I'll never visit every country in the world, but I do earn enough points from navigating the top credit card offers to fund a big chunk of our annual travel each year. We are a family of five including a toddler, so we redeem for domestic economy class tickets to see grandparents instead of business class seats to an over-water Maldives bungalow. We also travel in peak times due to school schedules, so it's harder to hunt for high value opportunities. I used to worry about this, but now we just earn 'em and burn 'em.
We are heading to Kauai later this month, which included these redemptions:
Economy flights to Hawaii – 15,000 to 40,000 American miles roundtrip each
The actual redemption amount will vary based on dates and times. The interisland flights are 7,500 miles each way (both AA/Hawaiian), and Mainland US to Hawaii are 20,000 miles each way.
You can earn American Airlines miles from multiple credit cards, as there are versions from both Citi and Barclaycard. Sometimes one offer is much better than the other, right now both are solid. Marriott/SPG points also transfer over to American miles. The cards will also let us get free checked bags and priority boarding, saving us more money.
Grand Hyatt Kauai – 25,000 Hyatt points per night
I'm excited to visit what is consistently rated the best resort in Kauai for the first time. You can earn Hyatt points from multiple credit cards as well. There is the Chase World of Hyatt card, and Ultimate Rewards also transfer over on a 1:1 basis instantly to Hyatt. That means the Chase Sapphire Preferred, Sapphire Reserve, Freedom, and Freedom Unlimited all earn points that can lead to a nice resort in Hawaii. (I also got a ton of points from the Ink Business Preferred for small businesses.)
Transferring some Chase points over let me top off the account to reach exactly the number of points needed. Redeeming with Hyatt points also includes all taxes and let me avoid the daily $35/resort fee. Here's a screenshot showing that the total cash cost for our stay would have been $701 per night (2.8 cents per Hyatt point) after adding in the resort fee: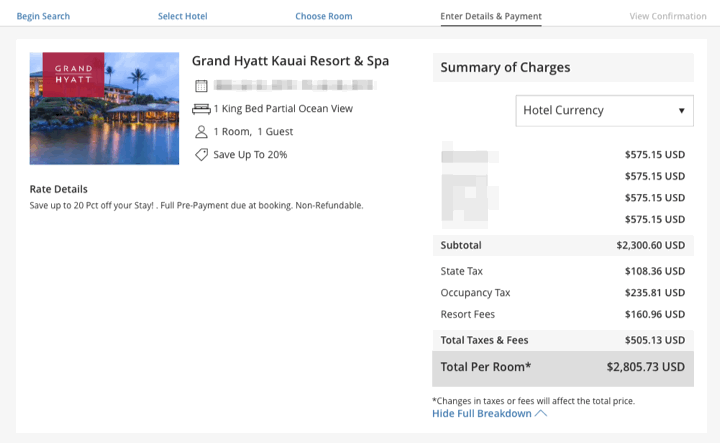 (I'm also getting 10% of my redeemed points back from this promo, so in the end I'll be getting more than 3 cents per Hyatt point.)
For the holidays, we are heading to visit family in Austin, Texas:
Economy flights to Austin – 20,000 British Airlines Avios roundtrip each
The flights are actually on American as well, just using Avios. While far from my best Avios redemption, it worked out as British Airways allows you to "household" an account. We had a previous trip so a lot of miles were spread across the kids' accounts, and this feature lets us pool the points and use them all up. For example, what if you had 18,000 points in five different accounts and the award you wanted was 100,000 points? Avios lets you pool them together, and you could transfer over some American Express Membership Rewards or Chase Ultimate Rewards points to top things off.
Besides past flights, our main source of Avios points was the Chase British Airways card.
SpringHill Suites Austin – 14,000 Marriott points per night
No free scuba lessons or water slides here. This is just a nice suite hotel so that we can fit all five of us in comfort. There is a solid free buffet breakfast, and it's close to family (and a Rudy's BBQ).
Marriott also has credit cards from both Chase and American Express that can provide lots of points-earning opportunities.
Both my wife and I apply for a few new cards each year, but we don't go past that much anymore. Our basic idea is to try out one card at a time. Sometimes the perks are pleasantly much better than expected, and other times they are harder to use than expected.