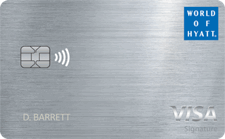 Chase has launched a new The World of Hyatt credit card, which replaces their previous Hyatt co-branded card. There is a sign-up bonus of up to 50,000 Hyatt points and a $95 annual fee. Here are the highlights:
Up to 50,000 bonus points – 25,000 points after you spend $3,000 on purchases in the first 3 months from account opening. Additional 25,000 bonus points after you spend a total of $6,000 on purchases within the first 6 months of account opening.
Receive 1 free night every year after your cardmember anniversary at any Category 1-4 Hyatt hotel or resort.
Earn an extra free night at any Category 1-4 Hyatt hotel or resort if you spend $15,000 during your cardmember anniversary year.
Get automatic World of Hyatt Discoverist status for as long as your account is open and 5 qualifying night credits toward your next tier status every year.
Earn 2 qualifying night credits towards your next tier status every time you spend $5,000 on your card.
If you've gotten a bonus from any Hyatt Card within the last 2 years, please note the following:
The product is not available to either (i) current Cardmembers of any Hyatt Credit Card, or (ii) previous Cardmembers of any Hyatt Credit Card who received a new Cardmember bonus within the last 24 months.
If you have the old Chase Hyatt card, you can call them up and ask for upgrade options. Supposedly they will offer you 2,000 Hyatt points to upgrade to this new card, although this new card also has a higher annual fee ($95 vs. $75).
The 5/24 rule applies to this card. On many Chase cards, there is an unofficial rule that they will automatically deny approval on new credit cards if you have 5 or more new credit cards from any issuer on your credit report within the past 2 years (aka the 5/24 rule). This rule is designed to discourage folks that apply for high numbers of sign-up bonuses. This is applied on a per-person basis, so in our household one applies to Chase while the other applies at other card issuers. The 5/24 rule is now believed to apply to this card.
What can you get with 50,000 Hyatt points? Here are all the Hyatt redemption options, but the most popular options are for free hotel nights, points+cash hotel combinations, or room upgrades. Hyatt allows you the flexibility of combining your points with any other World of Hyatt member to redeem an award.
Below is their points award chart along with points+cash option, and here is their award search tool. Free rooms start at 5,000 points. A suite upgrade is 6,000 points.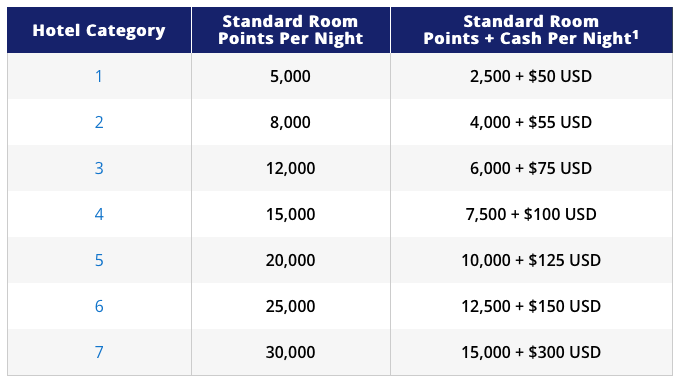 Essentially, 50,000 points can get you two free nights at the fanciest Category 6 properties like the Andaz Maui at Wailea and Grand Hyatt Kauai. Alternatively, you could get 3 free nights at a Category 4 like the Hyatt Regency Grand Cypress in Orlando. Finally, you can get 10 nights at 5,000 points per Category 1 night like the Hyatt Place Austin/Round Rock. Keep in mind there is that $95 annual fee (although you get a free Cat 1-4 night award at renewal).
Hyatt points expire after 24 months of inactivity, so if you keep up your activity then you can save up these free nights for later. Chase Ultimate Rewards points also convert to Hyatt points (which can also reset your inactivity period).
Ongoing rewards structure. I might book my Hyatt nights on this card, but the rest of the rewards aren't terribly exciting to me.
9 points total per $1 spent at Hyatt – 4 Bonus Points per $1 when you use your card at Hyatt hotels & 5 Base Points per $1 you can earn as a World of Hyatt member.
2 points per $1 spent at restaurants, on airlines tickets purchased directly from the airlines, on local transit and commuting and on fitness club and gym memberships.
1 point per $1 spent on all other card purchasesoffer details reference link*
Bottom line. The Chase World of Hyatt card is the new co-branded Hyatt credit card. As with most of these types of card, the best value is obtained by regular Hyatt customers. There is currently a 50,000 point sign-up bonus, an anniversary free night award, and a $95 annual fee. The total first-year value of this card is over $500, so it is worthy of a mention.
"Disclaimer: The editorial content on this page is not provided by any of the companies mentioned, and has not been reviewed, approved or otherwise endorsed by any of these entities. Opinions expressed here are author's alone."