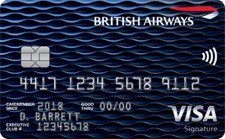 The British Airways Visa Signature Card is a co-branded travel card (issued by Chase) with a bonus offer of 100,000 Avios points. Here are the highlights:
100,000 bonus Avios after you spend $5,000 on purchases within the first 3 months from account opening.
Every calendar year you make $30,000 in purchases on your British Airways Visa card, you'll earn a Travel Together Ticket good for two years.
Earn 5 Avios per $1 spent on purchases with British Airways, Aer Lingus, Iberia, and LEVEL within your first 12 months from account opening, thereafter earn 3 Avios.
Earn 3 Avios per $1 spent on hotel accommodations when purchased directly with the hotel within your first 12 months from account opening, thereafter earn 2 Avios. Plus earn 1 Avios per $1 spent on all other purchases.
10% off British Airways flights starting in the US when you book through the website provided in your welcome materials.
No foreign transaction fees.
$95 annual fee.
The Avios reward chart is now based on how far you want to travel in terms of miles. So what can you do with all those points?
Redeem awards domestically on partner American Airlines. Within the US, it's usually easiest to find flights on partner American Airlines. There are no fuel surcharges when booking with American. Seating availability will be limited, but if you are flexible there is decent inventory.
Los Angeles to Honolulu, Hawaii using only 26,000 Avios points roundtrip. I ran a quote in Fall and it cost $659 broken down to $621 fare and only $38 in taxes. So in this case you could save $621 in exchange for 26,000 points, which is 2.4 cents per point. You can also do JFK to LAX for 25k points roundtrip. (Avios chart updated 5/30/19.)
Shorter-distance flights can be a good deal as well. Roundtrip from Chicago to New York City is only 18,000 Avios points + about $30 in taxes. Charlotte, NC to New York City is only 12,000 Avios roundtrip. Los Angeles to Las Vegas is also 12,000 Avios roundtrip. Los Angeles to Portland, Oregon is 18,000 Avios roundtrip.
Finding partner awards on BA.com is better than is was in the past, so try it first. Type in your to/from cities within the US, choose to book flights with Avios points, and then click to include partners:

If you have the flexibility, you can also search for additional dates for more available seats. You may find more space going business class in the US.
Use the American Airlines AA.com website and look for "MileSAAver" awards. Record the exact flight dates and numbers, and then call at British Airways at 1-800-452-1201 to book them. If you can't find the same flight on BA.com, they should waive the phone book fee (they did for me). Don't be discouraged if you have to use this method, especially if you aren't flying nonstop. Also, call back and talk with a different agent if they aren't helpful initially.
Beware of fuel surcharges on British Airways flights. Don't use Avios for a economy British Airways flight from USA to Europe, because you'll still be subject to taxes and fees on award redemptions, which are often half the entire cost of the ticket. I ran a quick search for a random New York City (JFK) to London (LHR) flight that cost $1,050, the taxes and fees alone were $650. You can get the $400 "fare" for 40,000 Avios points, but that's only 1 cent a point value. This can be mitigated with the…
Note the following language:
This product is not available to either (i) current cardmembers of this credit card, or (ii) previous cardmembers of this credit card who received a new cardmember bonus for this credit card within the last 24 months.
Bottom line. The British Airways Visa credit card has an updated bonus that works well if you can take advantage of their companion ticket.