Consumer Reports (CR) has released a multi-part Special Report on Auto Insurance, included in their September 2015 print issue but also available online without a subscription (at least for now). They analyzed over 2 billion quotes from over 700 companies across 33,419 zip codes. Here are some highlights of what they found.
First, here's a big picture view of which major car insurers are more expensive on average.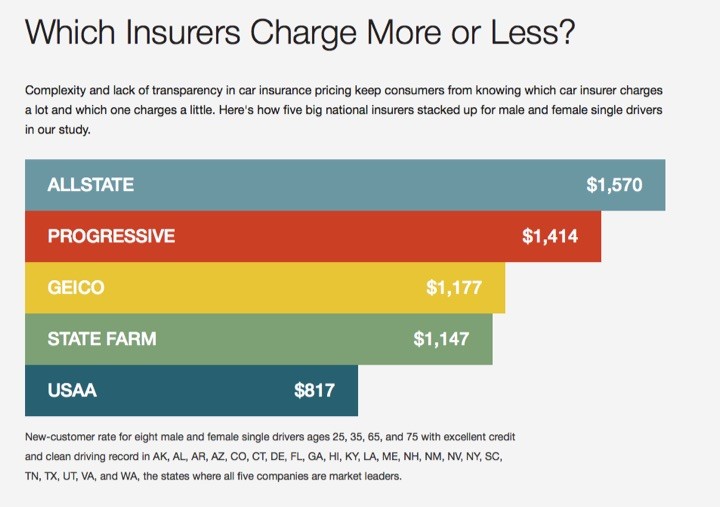 The biggest individual factor in your premium may be your credit score. Clicking on your state on this 50-state interactive map will give you an idea of the effect of having a "poor" or merely "good" credit score as opposed to an "excellent" one. California, Hawaii, and Massachusetts are the only states that prohibit insurers from using credit scores to set prices.
Often, having a poor credit score with clean driving record is more expensive than having an excellent credit with a DUI/DWI! Here's a screenshot for Florida: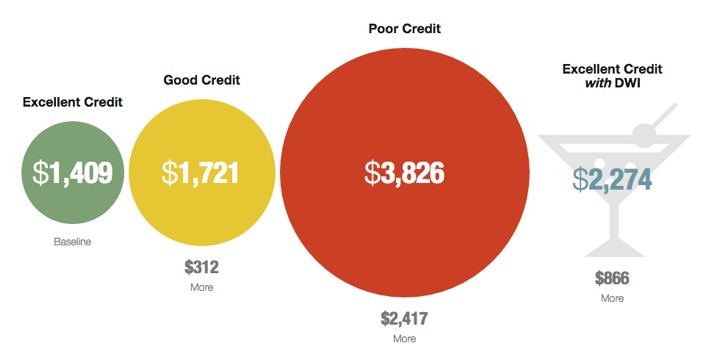 Another important factor is your loyalty and tendency to comparison shop other items like cable TV. You often think "Loyalty Discount", but often there is a "Loyalty Penalty". If you don't shop your auto insurance, some companies don't see something to be rewarded; they see a sucker. In my limited experience, the companies with the lowest quotes to entice you from another company are also the ones to hike up the rates every year afterward. Here's what CR found:
Geico Casualty gave us whiplash with its $3,267 loyalty penalty in New Jersey and its $888 discount just across the state line in New York for longtime customers. State Farm Mutual consistently provided discounts of a couple of dollars up to a few hundred dollars; Allstate Fire and Casualty and Allstate Property & Casualty tended to prefer penalties.
As noted in a previous post, Big Data knows if you're comparison shopping or not. Such "price optimization" occurs when they find out you could have saved money somewhere else like broadband internet, but didn't. Not a price-sensitive shopper? You may get the higher rates. Even states that officially ban the practice don't really have any foolproof way to know if it's happening. Here's what CR found:
Amica Mutual and State Farm told us they don't use price optimization. Representatives from Allstate, Geico, Progressive, and USAA declined to discuss price optimization.
Here's the general conclusion:
What we found is that behind the rate quotes is a pricing process that judges you less on driving habits and increasingly on socioeconomic factors. These include your credit history, whether you use department-store or bank credit cards, and even your TV provider. Those measures are then used in confidential and often confounding scoring algorithms.
What can a consumer do about all this? Consumer Reports wants you to write to your state's insurance commissioner, and they have a petition template ready for you. David Merkel of The Aleph Blog says you should simply fight back the market-based way: comparison shop your personal insurance lines every 3 years.
Bid it out. Bid it out. Bid it out. What do you have to lose? If loyalty means something to the insurer, they will likely win the bid. If it doesn't, they will likely lose. Either way you will win. If you have an agent, they will note that you are price-sensitive. The agent will become more of an ally, even if it doesn't seem that way.

[…] You don't need transparency, or more regulation. You don't get transparency in the pricing of many items. You do need to bid out your business every now and then. You are your own best defender in matters like this. Take your opportunity and bid out your policies.
I tend to agree with Mr. Merkel. However, I am still a long-time customer with State Farm. I'm happy to see that State Farm was found to consistently providing loyalty discounts and claims not to engage in price optimization. I shopped around for auto quotes in 2013 and GEICO was cheaper by about $372 a year. However, I had to balance that with the knowledge that GEICO will probably hike my premiums every year and also I've had excellent claim service from State Farm. Perhaps it is time for another comparison shop.