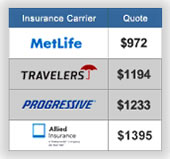 One of the few benefits of getting older is that my car insurance premiums are much lower today than in my 20s. But is that low rate caused by insurance companies knowing that I recently switched high-speed internet and refinanced my mortgage twice? Via drawpoker of Bogleheads, here's an NPR article called Being A Loyal Auto Insurance Customer Can Cost You about the practice of "price optimization".
"Well, it's really profit maximization," says Bob Hunter, with the Consumer Federation of America. He says insurance companies can buy software that compiles an astonishing amount of data on everyone who buys almost anything, anywhere.

"They have all the information on what you buy at your grocery store. How many apples, how many beers, how many steaks," he says. "They have all the information on your house. They have incredible amounts of information on are you staying with DirecTV when Verizon is cheaper."

A sophisticated algorithm crunches that data and spits out an index showing how sensitive a customer is to price increases. Only the insurance company knows the index.
From a USA Today article on the same topic:
Many insurance companies now use a sophisticated data-mining technique called "price optimization" to set rates just high enough that inertia keeps customers from shopping around. Research found that the longer customers had been with their insurers on average, the greater their savings when they switched, due to all the rate increases they experienced during their loyal years. […]

A 2013 Earnix survey found that 45% of large insurance companies and 26% of all insurance companies in North America currently optimize prices, with an additional 36% of all companies reporting they plan to adopt this technique in the future. What this means is that given two customers with identical risk profiles, the one who's judged less likely to switch carriers if his rate increases will pay more.
In other words, forget just FICO scores affecting your insurance rates. Your grocery club card, your mortgage quote requests, your switching from cable to DSL, your social media activity, it all could be funneling into some sort of "Frugal Cheapskate" Score. If you don't shop around elsewhere, you probably won't shop around for your insurance so they can hike it up without worrying about you jumping ship.
If you want some hints as to where you should start your comparison shopping, you may want to check with your state insurance department. For example, California provides some numbers for your rough situation without needing any personally-identifying information. Here are some numbers for a married couple living in Alameda Country, driving 9k to 16k a year, with no accidents or violations. The lowest average premiums are coming from USAA, Wawanesa, and Anchor General.