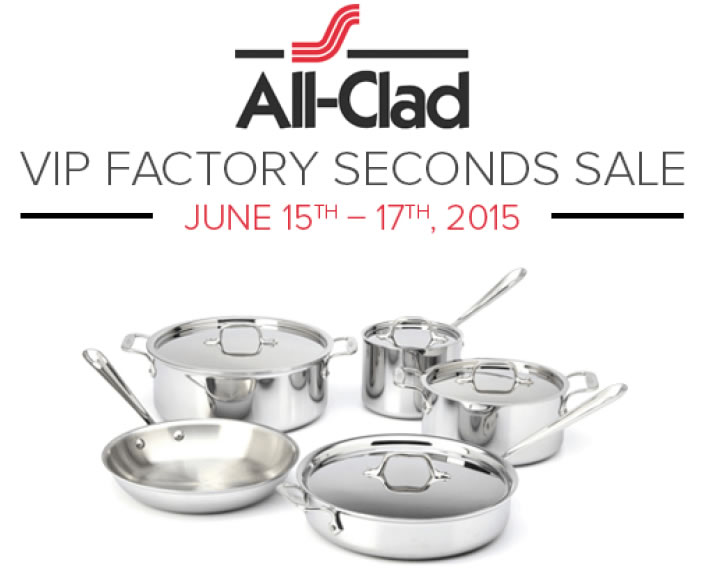 All-Clad cookware is known to be very high quality, but also quite expensive. If you cook often, then the prices aren't so bad when you consider that the stainless steel pans will essentially last forever (skip the non-stick stuff). Frugal home cooks know that All-Clad has (semi-annual?) Factory Sales that offer the same pans with slight cosmetic blemishes for significant discounts. These still come with the same lifetime warranty as if you'd bought them at Williams-Sonoma. (Really, who cares about dents and scratches when it comes to cookware!)
The products which are for sale on this site are FACTORY SECONDS. They have minor cosmetic scratches and/or dents. There are no defects which will affect the cookware's performance. For this event, all sales are final, no returns will be accepted.
Usually, first there is a huge in-person sale near their headquarters – last one was in Washington, Pennsylvania. After that, they have a semi-secret online sale, which is going on right now from June 15 to June 17th. Visit this link and use the pass code ACVIP15, thanks to mrdjman of FW. I was also given the access code via All-Clad e-mail so it should be open to all.
(The physical sale already happened last week, sorry! For future reminders, anyone can like their All-Clad Facebook page or send an e-mail to allcladvipfactorysale@groupeseb.com to get on their mailing list.)
I've been tracking these for a couple years after I was gifted a set of All-Clad fry pans. America's Test Kitchen often finds All-Clad pans to be the "best" when price is no object, but in terms of quality/price ratio, that is debatable. However, I do love the hefty feel and balance of my All-Clad pans and have come to appreciate quality in cookware after using my Le Creuset and Staub dutch ovens. As a lazy shopper, I just like the idea of buying something once and never worrying about it again.
The current sale has a much better selection than the other recent ones I've seen, so if you're ready to buy then now is a good time. Or just browse now and think about it while signing up to be notified of the next one. Even on sale, this stuff is spendy. 😉