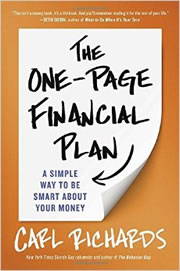 The hot buzzword right now is "FinTech", where technology will help us manage our finances more and efficiently than before. But I've also been tracking the reasons why working with a human advisor can be worth the money and time spent. As I've mentioned, the strength of the book The One-Page Financial Plan by Carl Richards is that you're hearing the voice of an experienced financial planner who also has the skill of distilling his experiences down to a sketch. Here's how he puts it: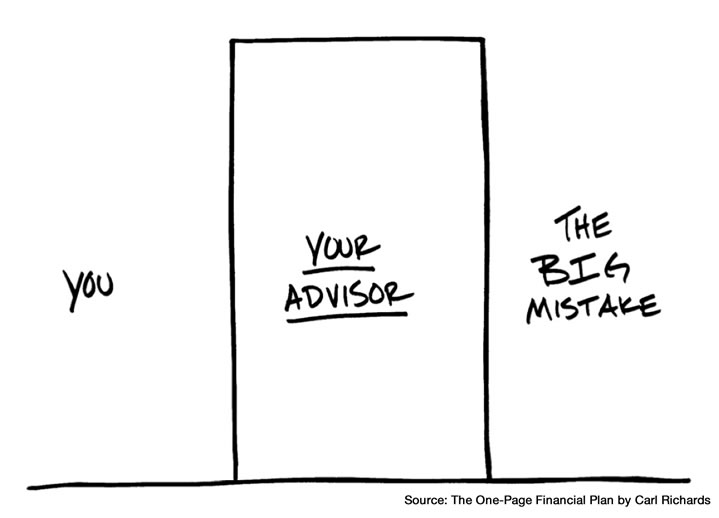 Takeaway: A good financial advisor keeps you from making The Big Mistake that derails your plans.
The big institution Vanguard says that a good financial advisor should be able to improve the performance of a "average" client's portfolio by about three percentage points in the following ways. Take note of which one factor makes up half of that 3%: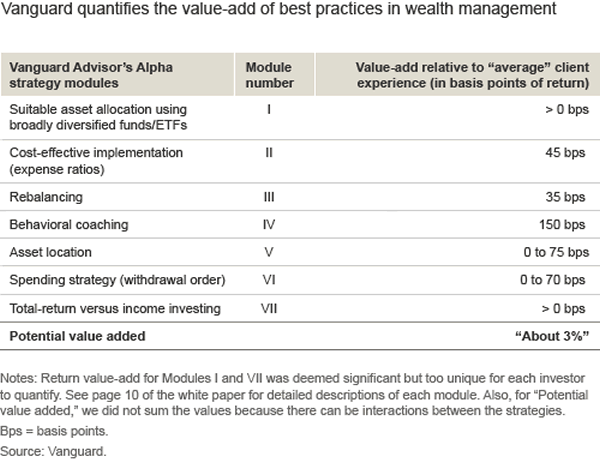 Takeaway: The biggest "value add" from good advisors is their "behavioral coaching".
Here's more incisive commentary by Josh Brown of The Reformed Broker, called When the flood comes:
When the flood comes, all of the bullshit arguments among the financial commentariat will come to an end. This will be my third time through. Believe me. We will not be arguing about how many basis points an advisor charges versus another advisor or a software program.

The people who are there for their clients and keep a cool head in public will come through okay. More than okay – they'll actually raise assets from new and existing households who realize what a mistake they've made with their previous advisor or solution.
Takeaway: A good client advisor will help you keep your cool when the next disaster comes.
I'm sure you've caught onto the theme by now.
The value in a financial advisor arrives when they help you maintain your plan through both the good times and bad. They will prevent you from participating in the mania during the next bubble, and they will keep you from bailing out during the next crisis.
The problem is, how do you find this "good" financial advisor amongst a sea of average to downright dangerous ones? Here's some advice from The One-Page Financial Plan:
To a certain extent, the process of finding a real financial advisor is a qualitative experience. It boils down to the question "Can I see this person getting to know me well enough so that I can trust him to help me behave for the next twenty years of my life?" Yes, you should verify that they're properly registered. Do a Google search of their regulatory record. I'm not talking about blind trust here— the kind that would allow someone to steal your money. I'm talking about finding someone who's willing to get to know your goals and values well enough to help you stick with your plan. Remember, your financial advisor is the only one standing between you and the Big Mistake of buying high and selling low. You're hiring them to do what you can't: make unemotional decisions about your portfolio. If they can't do that, why pay them?
Now, I still don't see myself hiring an outside advisor. But I do keep my portfolio conservative enough that my portfolio "boat" stays relatively stable even in rough weather. We'll see if I can remain unemotional during the next flood, as it is not a matter of "if" but "when" the next one comes along.