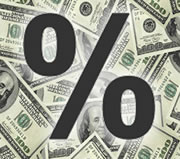 Our family keeps a year's worth of expenses (not income) put aside in cash reserves; it provides financial insurance with the side benefits of lower stress and less concern about stock market gyrations. In my opinion, emergency funds can actually have a better return on investment than what you see on your bank statement.
I don't chase rates nearly as much as I used to, but it still pays to shop around. Too many places are paying ZERO or close to it – the Megabanks, short-term US Treasuries, and money market sweep funds. Do you know what Chase offers on a 1-year CD? 0.02% APY. Bank of America on their 10-year CD? 0.15% APY. Meanwhile, the rates below vary from 1% up to over 3% annualized.
Best Currently Available Interest Rates
Here is a brief roundup of the best interest rates available on deposits backed by the full faith and credit of the US government (FDIC-insured, NCUA-insured, US Treasury Bonds, US Savings Bonds). I will try to sort them from the shortest to longest maturities.
How about my money? In terms of the opportunities above, I have opened an account at Everbank in the past for the promo rate and I have usually try to buy the max in US Savings I Bonds each year (no EE bonds, too long of a commitment). I don't currently juggle any rewards checking accounts nor do I have any deposits with any other banks mentioned above. It's just not worth it me to switch right now.
Besides some older CDs at higher rates, I keep a good chunk of my money at Ally Bank because right now they are the all-around "good enough" bank for me. Sure I could eek out 1.05% in a savings account somewhere, but Ally Online Savings is paying a 0.99% APY (as of 8/6/15) which serves as a no-fee overdraft companion to my Ally Interest Checking with ATM fee rebates. Along the same lines, I could get 2.25% in an outside bank's 5-year CD, but Ally has 2.00% APY on their 5-year CDs and a relatively short 150-day early withdrawal penalty. A rate difference of 0.25% on $10,000 over a year is $25, and I'm not sure that's enough to open a CD at another bank when my current Ally CDs mature.
All rates were checked as of 8/6/15.