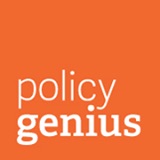 I would say that the insurance with the highest ratio of most-needed to least-bought would be long-term disability insurance. According to the Social Security Administration, just over 1 in 4 of today's 20-year-olds will be become disabled at some point before reaching 67. According to a Harvard study, lost income due to illness was a contributor in 40.3% of all personal bankruptcies in the US. Here is a chart that shows the average duration of disability claims lasting more than 90 days, measured from the start of disability to (at most) age 65.

Sometimes your employer offers group LTD coverage, but what happens when you switch to another job that doesn't have it, or you get disabled while unemployed? Not all group plans are convertible to individual policies. Finally, what if you are self-employed? Many people are freelance graphic designers, writers, and other hard-to-define jobs.
PolicyGenius is one of many sites that offer online insurance quotes, but their specialty is straightforward information and non-pushy quotes for "young, self-directed people". They sell:
Term life insurance
Long-term disability insurance
Renter's insurance
Pet health insurance
I have to admit, the fact that they actually listed "blogger" as a legitimate job was the spark that made me want to get a quote from them. I also liked that they only sell term life insurance, and not whole life, permanent life, or indexed-confusing-whatevernot.
Another plus is that they have quotes from all seven major LTD insurers, and the quotes you get should be identical to everyone else's for the exact same policy from the exact same insurer. That is, there are no various levels of markup depending on where you buy it from, like there is for Tide detergent or a Toyota Camry. The commission to the seller is already baked into the premiums.
I applied for a long-term disability insurance quote, which they call "insurance for your paycheck". PolicyGenius has a modern, comfortable user interface. First, they'll ask for basic information like gender, birthdate, and state of residence. Click on any screenshot to enlarge.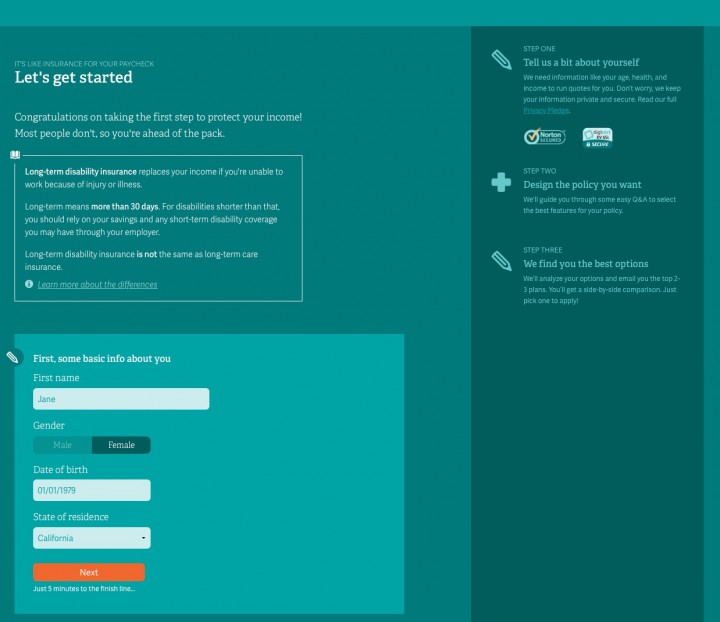 Income. Usually a policy won't pay more than about 50% to 60% of your current income. I'm guessing they don't want to make it too appealing an option!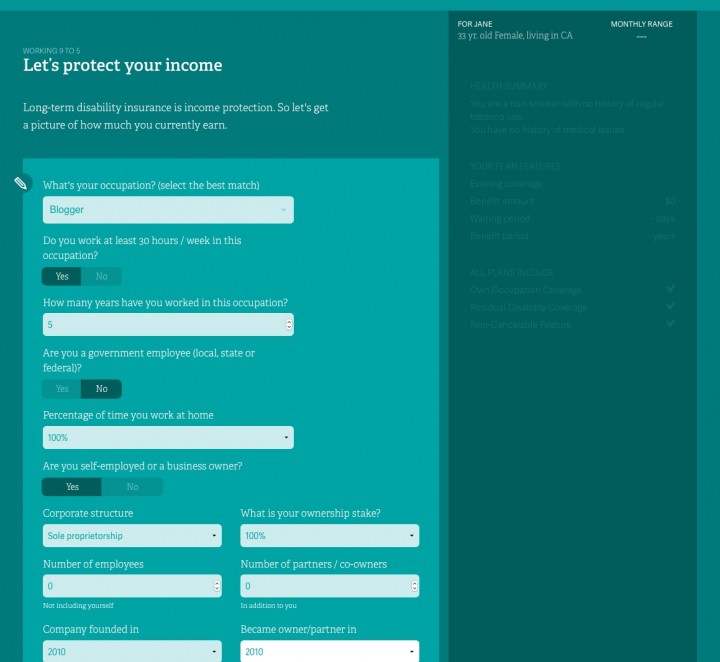 Health info. Pre-existing conditions are usually excluded. The worse your health, the more likely you'll become disabled.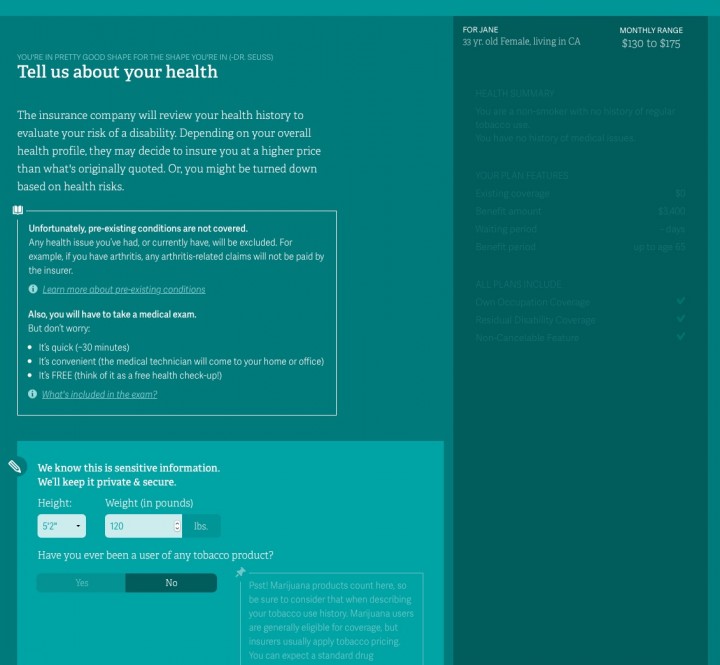 Monthly benefit. Obviously the higher that is, the higher your premium.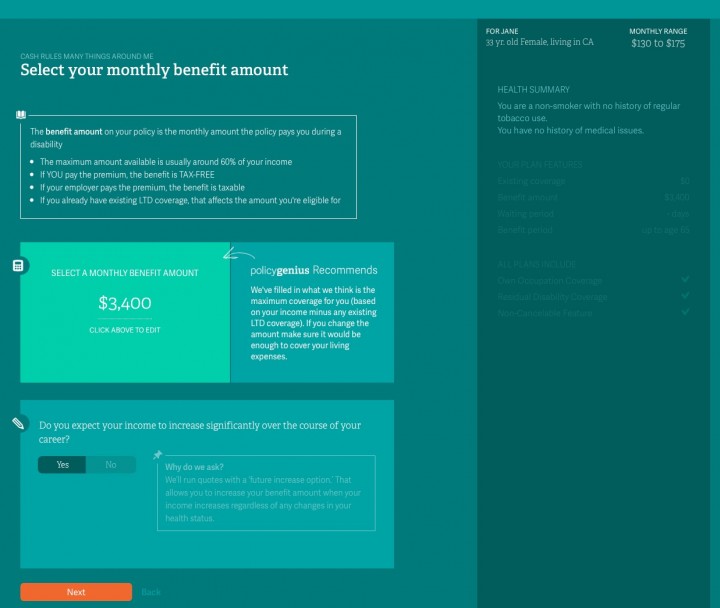 Waiting period. The longer you are willing to wait before claiming a disability, the lower your premium.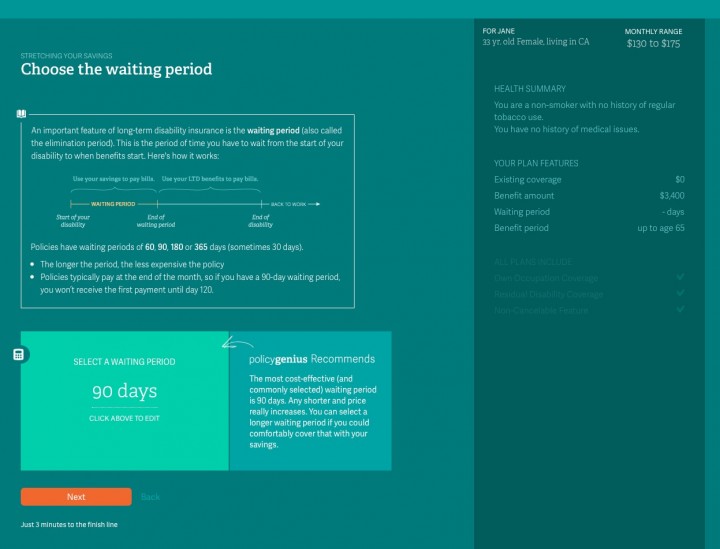 Benefit period. How long do you want to be able to claim benefits?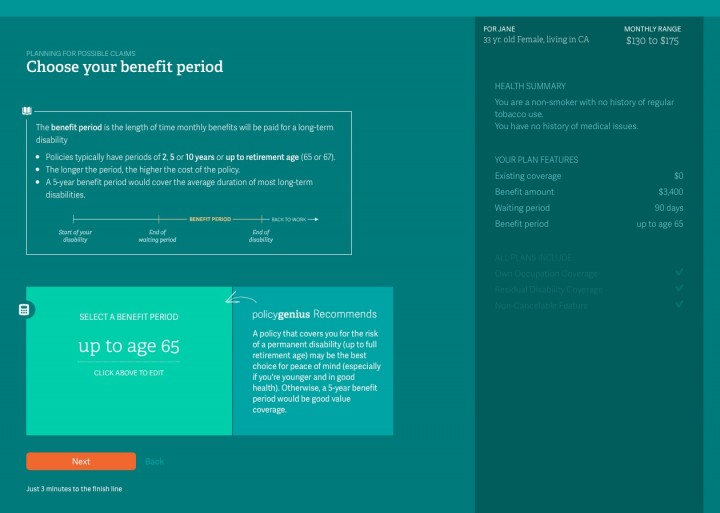 Additional riders. There are coverage options which you can add or remove.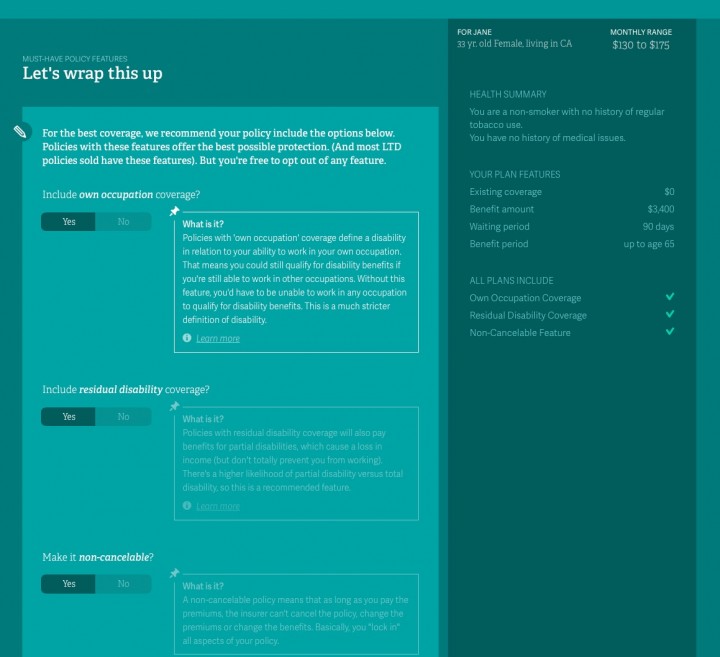 I made a quote with my own personal details, but also an additional quote for the following theoretical situation. The quotes still require additional underwriting, meaning you'll probably have to submit supporting financial documents and complete a physical examination (blood, urine, body measurements). Here's a rough outline:
Female, non-smoker, California resident, age 33.
Current income $5,000 a month. Policy benefit $3,400 a month.
Self-employed blogger for 5 years (classified as Reporters and Correspondents).
90 day waiting period, claim until age 65.
Own occupation, residual disability, and non-cancelable.
After 3 business days, I was e-mailed a quote of $265 a month from Principal Financial Group for this situation. This was significantly higher than the $130 to $175 a month estimate that was given initially, and much higher than the $98 a month quote I got for myself. My guess is that my monthly benefit was relatively high at 68% of current salary? I have also read that women are quoted higher premium when statistically likely to have a baby since pregnancy causes a lot of disabilities. I wrote back to them asking what things I could tweak (like a lower monthly benefit and/or a 180-day waiting period) in order to get the premium down to around $100 a month.
If you do get a LTD quote yourself, be sure to read all the tips during the quote process and also wade through the entire detailed proposal package for what is excluded. My thoughts are to treat this as true insurance (as opposed to a payment plan), which means you are trying to just cover catastrophic events and hope to never make a claim. That means I tried to make the benefit just big enough, the waiting period as long as I could bear, but I kept the claim period to age 65 in case I become permanently disabled.
One thing to note about disability quotes is that the price is usually the same across all the different comparison sites. I chose to highlight PolicyGenius because it was easier to use and less intimidating than other places that I've tried. If you choose to run a quote through my link and actually purchase a policy, I may receive a commission. If you've gone through the individual long-term disability insurance process, please share your experiences in the comments.