Last week I mentioned comparing your budget with other people around the world. This time, how about comparing your budget to someone living 50 or 100 years ago?
A new article in The Atlantic dissects the information in a new government BLS report 100 Years of U.S. Consumer Spending, focusing on the the differences in spending in 1900, 1950, and 2003.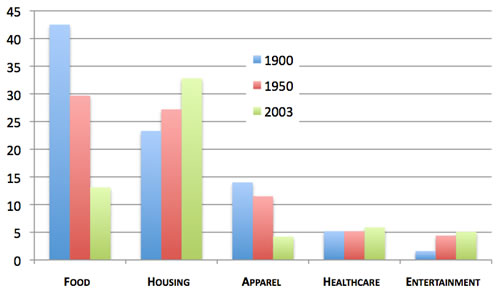 Source: The Atlantic magazine, Bureau of Labor Statistics
In 1900, nearly 60% of income went towards food and clothing. In 2003, food and clothing are now less than 20% of expenditures. Instead, more than half of income is spent on housing and transportation (included in Other). The percentage of healthcare costs is again deceiving, as today most healthcare expenses are not paid directly by consumers but instead by employer insurance premiums and programs like Medicare.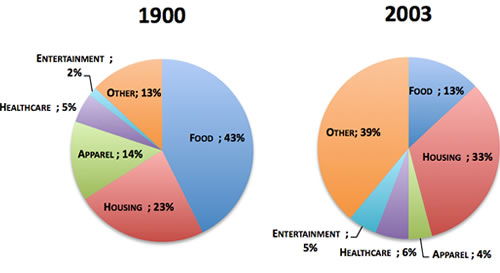 I don't wish I lived in the 1900s, as I'm quite accustomed to high quality healthcare and flushing toilets. But we should realize that things are in constant change. Are we properly taking advantage of our mass-produced cheap clothing and agricultural advances? Or are we spending the difference on things we don't need just to fill the gap? What will things look like in 2050?