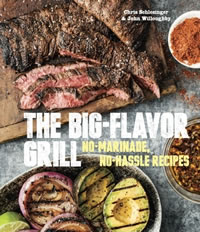 Another thing I've been getting into this summer is grilling over 100% natural hardwood charcoal. My gateway drug was Alton Brown's Steak on Coals recipe. The smell and flavor brings me back to my childhood, even though technically that was a pile of Kingsford with tons of lighter fluid…
So I agreed to a free review copy of a new cookbook called The Big-Flavor Grill: No-Marinade, No-Hassle Recipes, written by chef Chris Schlesinger and Cook's Illustrated executive editor John Willoughby.
The basic premise of this book is to save you time and energy by avoiding marinades, brines, or complicated sauces. Instead, while your grill is heating up you smear on a pre-rub, and after the food is cooked you add on a flavorful sauce. You do all the prep in the 30 minutes or so that it takes your charcoal to heat up (preferably with a cheap chimney starter to avoid lighter fluid). Here are some sample recipe names, unfortunately I couldn't find a sample full recipe online:
Five-Spice Steak Tips with Grilled Pineapple and Sweet-Sour Sauce
Coriander-Crusted Pork Skewers with Maple-Mustard Barbecue Sauce
Chicken Breasts with Maple-Soy Glaze and Peanut-Ginger Relish
Spicy Curry-Rubbed Lamb Kebabs with Grilled Peaches
Cumin Seed–Crusted Shrimp with Charred Corn Vinaigrette
Fish Steaks with Sriracha-Basil Butter
Did the pre-rub + sauce work? Well, yes and no. I didn't have to marinate or brine. The food tasted good. Can some citrus and herbs brighten things up easily in a pinch? Yes. But I still had to make a special trip to the store to get all the ingredients for my exotic sauces, so that took time. Marinating is basically just doing the same amount of work ahead of time and letting it sit there overnight. Yes, planning ahead is harder but so is shopping for all those ingredients. Is that extra convenience worth the decrease in taste, tenderness, or juiciness from no marinating or brining? I'm not sure.
I found the true benefit of this book is that it reminded me that simple grilled food is great all by itself. For every section, they have something called "Super-Basic" XXX, where XXX is everything from steak to shrimp to corn to cherry tomatoes. And you know what? I liked the grilled shrimp straight-up off the grill more than the shrimp plus ginger/lime/sesame sauce because the sauce made everything a bit soggy. Grilled blistered tomatoes, grilled mushrooms, grilled asparagus… all great with just some olive oil and salt. Grilled peaches, grilled avocados, smokey and awesome right off the grill. I guess I'm a simple guy.
The cookbook itself looks great in hardcover, with good photography inside and the pages are thick and feel high quality. It would make a good gift for the busy grilling enthusiast. I don't think it'll be a timeless classic, but I will definitely keep this book around for the Super Basic XXX recipes to provide inspiration on Friday nights when I am short on time and want to cook outdoors.
In the end, just grill baby! It feels special but costs very little extra. I use a simple $30 Weber Smokey Joe grill and real charcoal can be surprisingly cheap too. After reading Omnivore's Dilemmna by Pollan I think cooking from scratch at home is overall better for both my wallet and health.
I received a review copy of this book for free from Blogging for Books. If you are a blogger, check them out for some free review books in your niche.