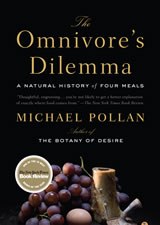 I'd like to make a habit of reading a book every other week in 2014. My first book is The Omnivore's Dilemma: A Natural History of Four Meals by Michael Pollan. This 2006 NYT bestseller has already been well-discussed, but I saw it at my library's donated book sale and wanted to read it for myself.
Instead of a regular review, I just wanted to share one financial concept inside about the special economics of food. We all learned in school that as prices go down, demand should go up. As demand goes up, the price tends to rebound until an equilibrium is found. But this doesn't work for food producers:
The growth of the American food industry will always bump up against this troublesome biological fact: Try as we might, each of us can only eat about fifteen hundred pounds of food a year. Unlike many other products – CDs, say, or shoes – there's a natural limit to how much food we each can consume without exploding. What this means for the food industry is that its natural rate of growth is somewhere around 1 percent per year – 1 percent being the annual growth rate of American population. The problem is that Wall Street won't tolerate such an anemic rate of growth.

This leaves companies like General Mills and McDonald's with two options if they hope to grow faster than the population: figure out how to get people to spend more money for the same three-quarters of a ton of food, or entice them to actually eat more than that. The two strategies are not mutually exclusive, of course, and the food industry energetically pursues them both at the same time."
If farmers have a great year, they can actually make less money as prices plummet after product floods the market (due to our finite stomachs). Let's look deeper into those two alternatives:
Convince people to spend more for the same amount of food. This is behind why everything is processed to the point of ultimate convenience with sleek packaging. Any cooking beyond using the microwave has been removed. Everything is in single-serving packages. Every new diet comes with its own line of ready-to-eat stuff in a box. Surprise, everything also gets more expensive! I just noticed that gluten-free pasta costs roughly 3 times as much as traditional pasta. Even terms like "organic" and "free-range" are twisted by marketing and may not mean what you think.
Convince people to eat more food. What we consider an acceptable portion size has increased over the years. From 1982 to 2002, the average pizza slice grew 70 percent in calories. Even the surface area of the average dinner plate expanded by 36 percent between 1960 and 2007 (source). Think of the "Upgrade" or "Combo" feature of many fast food menus. Why just order a sandwich and drink water, when for a little more you can get fries and a soda? Once you order the combo, why not "upgrade" to even larger fries and larger soda for just 50 cents?
This is why we are surrounded by food branding and food marketing. To fight back, we should buy food as close to their whole "raw material" state as possible in order to avoid the middleman (processing). Even though it does take more time, this makes the food we eat both healthier and cheaper overall.