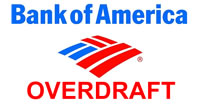 Updated. Although I originally wrote this post a few years ago, it (unfortunately) still gets regular traffic. Bank reforms instituted in 2010 made overdraft "protection" only applicable on an opt-in basis on ATM/debit card usage. Despite this fact, U.S. banks still collected over $6 billion dollars in overdraft fees in 2015.
The advice below on how to get a BofA overdraft fee refunded still works, as many positive e-mails and comments will attest. But you should also ask to turn OFF your overdraft protection as many people are confused on the actual meaning of the service. If you opt-out of overdraft protection and try to use your debit card with an insufficient balance, you will simply get denied with no fee. If you opt-in to overdraft protection and try to use your debit card with an insufficient balance, your purchase will go through but you will get charged a fee of roughly $35 on each instance. Now you know why I put quotation marks around "protection".
Just Ask!
I was hit with an overdraft fee from Bank of America when I was trying to close out an account. Luckily, I was able to get it refunded to me. The answer is always no if you don't ask, so don't give up the opportunity to save hundreds of dollars with a 10-minute phone call! A few tips:
Be nice but firm. Customer service reps are people. This is not the time to outline all the reasons why their overdraft system is unfair. The employee is never going to be able to admit "Yes, they are unfair!", and you're only going to put them on the defensive.
Admit you made a mistake, and include your personal story. Perhaps you and your spouse had a miscommunication and lost track of the bank balance. Your contractor finally cashed a check from 8 months ago that you forgot about. A spokesperson from Bank of America said they "may waive unemployed consumers' fees on a case-by-case basis."
Help them find a reason to help you. Are you a first-time offender? Are you a long-time customer? Do you have other accounts with Bank of America? Credit card, loans, or business accounts? Show them you are a profitable customer worth keeping.
Try different communication avenues. I used to visit my local branch a lot, and have had some good success with going directly there. Your mileage my vary, but also try any combination of Live Chat, E-mail, and Telephone.
"Hi, I was recently charged an overdraft fee when an old check got cashed. I totally forgot about it and it was my fault. However, I've been with BofA for X years, and this is my first overdraft fee. I am calling to see if I am able to get this waived."
Denied? Escalate!
If you're not satisfied with your response, it has paid off for many customers to escalate your request to the "Executive Customer Relations" division of Bank of America. Read the many relieved comments below.
Call Executive Customer Relations:
Executive Customer Relations general line: 704-386-5687
E-mail a Bank of America Customer Advocate:
Melissa Russell
Customer Advocate
Office of the Chairman
800-669-2443 Ext 2809
melissa.d.russell@bankofamerica.com
Crystal R. Peterson
Customer Advocate
Office of the CEO and President
336-805-3126
crystal.peterson@bankofamerica.com
A sample success story:
Emailed the office of the chairman 2 weeks ago and received a call today from that office. They credited back $440 in overdraft fees. Issue was my fault since i made the purchases but the merchant submitted all transactions for 3 months on one day. Pretty happy with the result.
Write a snail-mail letter to the CEO:
Brian Thomas Moynihan
100 N. Tryon Street
Mail Code NC-1-007-18-01
Charlotte, NC 28255
Another success story:
Thank you, thank you, thank you. After reading the post about the BoA customer who got $280 in NSF fees refunded, I wrote BoA myself. They had charged me 7 NSF fees in succession (which sucked ass) and was my fault. […] So I wrote a formal letter of complaint to Kenneth Lewis. This past Saturday, they refunded all of the fees – even though it was my fault. I can't believe it. That rocks. People do have the power.