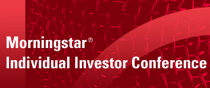 Morningstar is holding a free online event this Saturday, April 2nd called the Individual Investor Conference. Starting at 9am Central, according the full agenda there will be six live streaming video sessions from their staff. You can chat with other attendees during the video stream, or also send in your own questions to miic@morningstar.com with the subject line "MIIC 2016: My Investing Question". Here are the sessions that interest me:
10:00–10:50 a.m. CST "Securing Your Retirement: A Conversation with Christine Benz and Harold Evensky"
As pension plans wane and Social Security faces long-term cutbacks, more and more of individuals' retirement security is in their own hands. How do they make it work? In this one-on-one interview, Morningstar director of personal finance Christine Benz and noted financial planner Harold Evensky (a pioneer of the "bucket approach" to retirement income) will discuss the key pillars to retirement security for individuals in every life stage–from early-career savers to those already in retirement.
1:30–2:20 p.m. CST "Portfolio Planning: Make a Lean, Mean, Tax-Efficient Machine"
Because we investors don't know what headwinds will come, it makes sense to streamline everything else we can control–and that includes minimizing the drag caused by unnecessary tax exposure. In this presentation, Morningstar director of personal finance Christine Benz will help you craft a solid plan for tax efficiency–that means maximizing tax shelters, optimizing taxable portfolios, finding the best tax-smart investments, and building a tax-savvy retirement-drawdown plan.
It doesn't look like are required to register or anything, just show up. These are relatively long sessions, so hopefully it will be a compilation of their "best stuff" on the given subjects.