The NY Times had a provocative two-part series on portfolio asset allocation by David A. Levine, former chief economist at Sanford C. Bernstein & Company:
I enjoyed reading his opinions, but didn't agree with all of his points. The heart of my argument is that when the writer says "most people", he seems to be talking about his Wall Street peers with multi-million dollar retirement portfolios, where most of it will eventually be passed onto heirs or charity. Instead, "most people" are actually trying to make something like a $200,000 nest egg last as long as it possibly can.
Time horizon vs. asset size. The first article brings up the topic of "time horizon":
This consensus view, though, rests on a fallacy: the belief that as people grow older, their investment horizon shortens and, therefore, their ability to withstand volatility diminishes considerably.

I would argue, instead, that there is an insufficient appreciation of just how apt the metaphor of the "investment horizon" is. Just as a sailor sees but never reaches the horizon, the same is true for nearly all investors.

[…] But what if there's a bear market? "No big deal," I say. As long as you don't panic and sell most of your holdings at the worst times, your annual withdrawals are limited. As a result, you should not really worry about fluctuations in the stock market.
A rule of thumb is that stocks can drop 50% in any given year. Again, let say all you have is $200,000 and you're withdrawing 4% of that ($670 a month) to supplement your Social Security and/or pension income. If your balance drops to $100,000 due to a economic crisis, and you still need that $670 a month to pay the bills, yes you are going to panic.
If you have a $10 million portfolio, and a market crash means that you simply reign in some of your discretionary purchases, then your stress level is going to be lower. As my own portfolio has grown, I now only hold 70% stocks but also worry less about the stock portion as I know can ride out a bad sequence of returns.
As Josh Brown reports on The Reformed Broker:
Having worked directly and indirectly with investors from all walks of life and every region of the country over the last 18 years, I can promise you that almost no one can endure – emotionally speaking – the volatility and drawdowns that an all-equity portfolio brings to the table.
Long-term performance vs. asset allocation. The second article makes the point that the historical long-term performance of stocks has been higher than all types of bonds, over many different holding periods: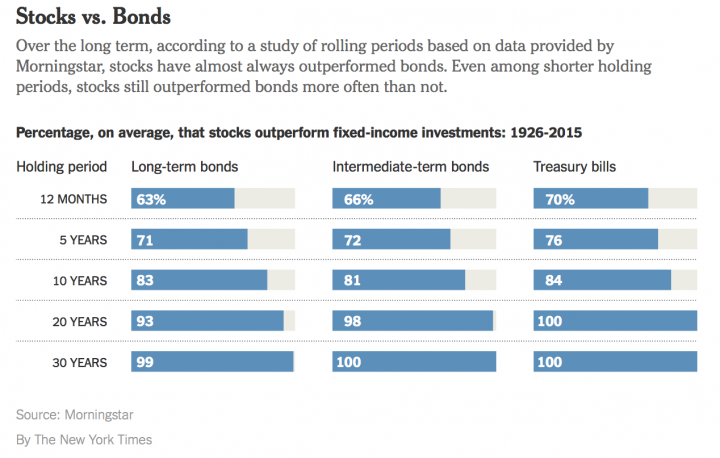 In my opinion, the logical conclusion from such tables as above is limited to saying that if you are going to invest in stocks, you need to hold them for 20+ years. So if your portfolio is 60% stocks, keep that portion in stocks for 20+ years. The table doesn't take into account withdrawals or timing risks where you are forced to take out money to meet spending needs during a period of negative returns.
In addition, Warren Buffett is used as an example because he stipulated 90% S&P 500 stocks and 10% Treasury Bills for his wife's trust upon his passing. Buffett is worried about the long-term returns, not the risk of his wife running out of money. Do you think her withdrawal rate will be anywhere near 4%? It's going to be a tiny fraction of 1%. I'd bet big bucks that Buffett would not have set the same asset allocation if she only had $500,000 to live on.
In the end, I guess what I am saying is that your asset allocation also depends on your asset size. Your time horizon matters, but also how close you are to missing a rent payment matters too. Products like target-date retirement funds don't adjust based on if your balance is $10 million or $10,000. Nor should they really, as they don't know your future spending needs either. Investors themselves (or their advisors) need to take both of these factors into account.
Of course, it would be great not to have to worry about keeping a balance greater than zero. With a big asset base and modest spending levels, you could indeed have an indefinite time horizon and keep 60% in stocks forever, much like a traditional pension plan. I'd require some enormous amount like $10+ million to be 100% stocks forever, though.