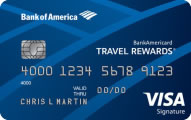 The BankAmericard Travel Rewards® Credit Card is my current base rewards card (after any bonus 5% cash back categories, sign-up bonus cards, etc). This is because if you give them enough assets to hold onto (admittedly not possible for everyone), you can receive 2.25% or 2.625% cash back against past travel-related purchases. Please see my Bank of America Travel Rewards® Credit Card review for details on the card structure. As I've made a few points redemptions already, I wanted to share my tips and experiences with that. The good news is that the process is quite simple and I found it easy to use up all of your points to maximize value.
Account setup and eligiblity. I have both a Bank of America checking account and a Merrill Edge brokerage account. The checking account doesn't have much money in it (it pays no interest) and technically isn't necessarily at all, but I do keep $100,000 in assets in the Edge brokerage account in order to qualify for the highest tier of Preferred status, Platinum Honors. $50,000 in combined balances will get you the Platinum tier. Vanguard ETFs trade free at Vanguard, but Edge gives me commission-free trades a month on any stock or ETF (100/month Platinum Honors, 30/month Platinum). There are no account maintenance fees for Merrill Edge. Thus, it cost me nothing to switch to Edge besides having yet another account in my life (in fact, they paid me a sign-up bonus).
When logging into BofA, this bundling also offers the convenience of viewing my bank account balance, credit card charges, and Edge investment value all on the same screen. It also tracks which tier I am on their Preferred Rewards program (Gold, Platinum, or Platinum Honors), including my exact qualifying balance: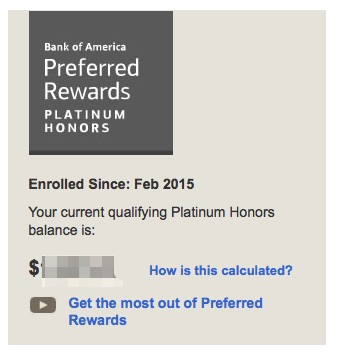 The official measurement is of your "3-month average combined balance", so if you just transfer the bare minimum $100k over into an empty account, it may take a few months to reach the $100k level and officially qualify for Platinum Honors. Only after that will the 75% rewards bonus on credit card rewards kick in. (You may qualify for Gold and Platinum in the meantime.)
Earning rewards, bonus verification. Here is a screenshot taken from one of my monthly statements, which I have highlighted for clarity.

I put $2,527.99 in purchases on my card during this statement cycle, so at 1.5 points per dollar that came out to 3,791 points. Since I am on the Platinum Honors tier, I received a 75% bonus of 2,846 points. (This appears to be off by a few points when compared to my calculator, but is very close.) Gold members would have received 25% bonus, Platinum members would have received a 50% bonus.
The total is 6,637 points, which will get me $66.37 of statement credit towards a previous travel-related charge (see below). The bonus points were calculated automatically without any additional legwork on my part.
Redemption process. Here are the rules:
1.5 points for every $1 spent on all purchases. No limit to the points you can earn. Points do not expire.
Redeeming for Travel Credit offers the best value for your points. There are no restrictions or blackout dates. You can also get gift cards, but why bother?
Valid travel-related expenses include airfare, hotels, car rentals, baggage fees, and airline upgrades. (Possibly more depending on merchant categorization, for example inflight food counted for me.)
Minimum redemption is 2,500 points = $25 when redeemed for a Travel Credit.
A travel purchase is eligible to redeem for a Travel Credit up to 12 months from the date the purchase posts to your account.
Partial redemptions allow you to use all your points up. For example, if you have a $26.00 eligible purchase but you only have 2,500 points, you can use just those points and get $25 back. You don't have to accrue more points to reach any specific purchase value.
The system will remember your partial redemptions, and allow you to apply future points redemption up the remaining balance of that purchase. So that big annual vacation bill? You can chip away at it with your rewards over a year.
You can perform all your redemptions online, no need to call anyone. Here is a screenshot of the rewards redemption website, which should provide a good idea of how it works. Click to enlarge.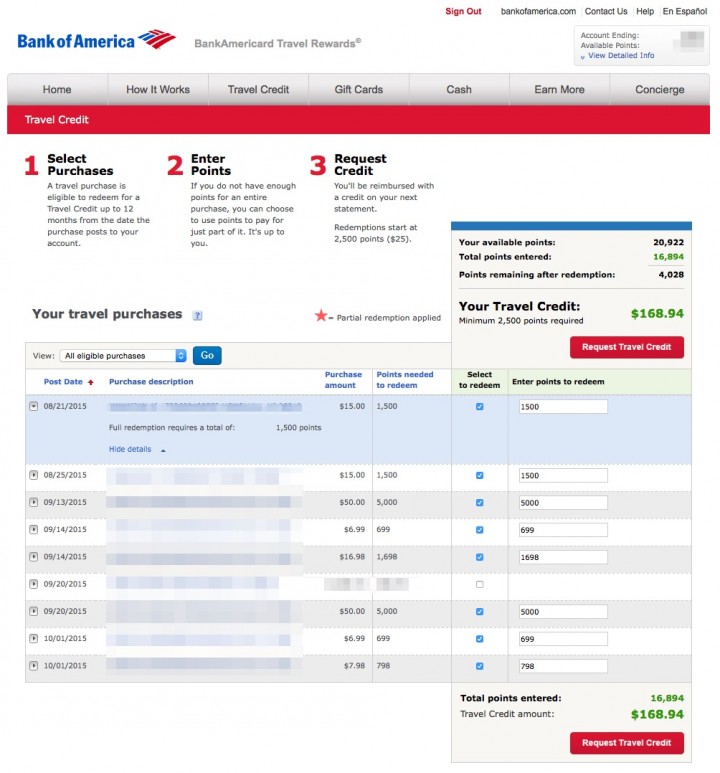 (Side tip: If you are worried about cashing out all your points, simply adjust your redemptions to keep a minimum of 2,500 points in your account at all times. Then, if for some reason you want to close the card and do one final cashout (i.e. they announce upcoming changes for the worse), you can do so and use up every last point.)
Recap. I have shown that my real-world experience matches the promised rewards payout. $66.37 of reward divided by $2,527 in purchases is 2.625% back. I was able to get full reward value by offsetting a travel purchase from the last 12 months (airfare, hotel, and all those annoying airfare-related fees). The points arrived without hassle, and redemption was both easy and offered a high level of control.
I realize not everyone will have at least $50,000 of assets to move around, and so this is somewhat a restricted offer. But again it doesn't have to be idle cash, it can be stocks or ETFs that you're just holding elsewhere like TD Ameritrade or Vanguard. 2.625% back is a great rewards rate, assuming you charge enough travel-related stuff on the card every 12 months. For example, if you charged $1,000 a month, 2.625% back would be $315 a year. The card has no foreign transaction fees, so you can use it internationally as well.
Please see my Bank of America Travel Rewards® Credit Card review for additional card details.