If you're trying to achieve early retirement, that means you have less time for compound interest and more time living off your investments. As a result, many early retirement investors like to own income-oriented investments like rental properties or dividend stocks. People used to own bonds and also be happy with that income when the interest rates were well above the inflation rate, but right now that is not the case.
So a good question is – How reliable is the income stream from dividend stocks? Joseph G. Paul of the AllianceBerstein blog tried to address this issues a couple different ways. First, he pointed out the dividend income from the S&P 500 went up in 39 out of the last 46 years. When it did drop, the largest single year drop was 20% from 2008 to 2009.
Now imagine that own the S&P 500 index or a High Divided Yield index (top 1/3 of S&P 500 by dividend yield) and simply spend the dividend income every year, but don't sell any shares. 10 years later, would you have the same amount of money that you started with? (That's what would happen with a 10-year bond.) Here are the results: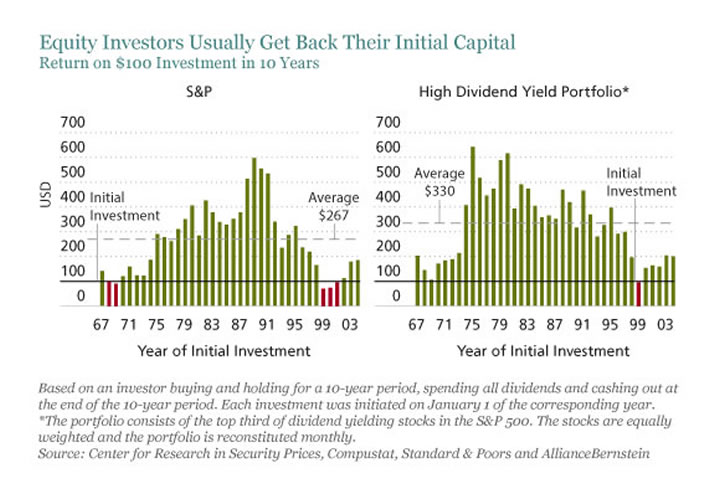 In fact, in 87% of 10-year periods that we surveyed, investors in equities got their money back receiving, on average, more than twice as much (Display) from a $100 investment. The high-dividend-yield portfolio was even more stable than the market as a whole, only failing to recover the initial investment in one out of 38 10-year periods.
The AB article makes a case for the suitability of a diversified basket of dividend stocks for long-term investors that want to spend the income every year without selling shares, with the warning that they also need the ability to ignore share price fluctuations and avoid selling in a down market.
On the other hand, financial author William Bernstein wrote in his book The Ages of the Investor that you can only treat 50% of your dividend income as absolutely reliable. His reasoning, at least as quoted from the book:
If you counted on your stock holdings to see you through retirement, you're likely to be seriously disappointed. Yet, there is a small part of the equity portfolio that can be considered in the funding of retirement: the "safe dividend flow" from stock holdings. Although the value of stocks can fluctuate wildly, their stream of income is much more stable. At no point in the history of the U.S.stock market has its real dividend stream fallen by more than half, even during the Great Depression. During the most recent financial crisis, for example, although stock prices fell by more than 50%, dividends also dropped, but by only 23% from their peak, and only temporarily.