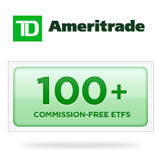 Updated. I'm a TD Ameritrade accountholder now, and have updated this post with more details and tips.
Since 2010, large online brokerage firm TD Ameritrade has been offering a list of over 100 ETFs that can be traded with no commission if you hold them for at least 30 days. The list is based on advice from Morningstar as to which 100 ETFs that would be most useful for long-term investors to build a ETF portfolio.
The current 100 ETFs that make the list include 48 from iShares, 32 from Vanguard, 12 from State Street, a few selected ETFs from Barclays, Deutsche Bank, PIMCO, Powershare, Van Eck, and WisdomTree. You can view the entire list here [pdf]. You must enroll and accept a special set of terms to get the free trades, because if you don't hold the ETF for 30 days, they will charge you a short-term trading fee of $19.99. If you don't enroll, your commissions will be charged at the standard price of $9.99.
I recently opened a TDA account for my new model portfolio and in my haste to make trades, I forgot to enroll in the commission-free ETF program. I wish it was part of the application process, but you have to open, fund, navigate to "Home" > "My Profile", and then enroll manually. I contacted TD Ameritrade about my mistake, and they refunded 60% of the charged commissions. I can't complain as it was my own mistake, but this would have been a glowing review of their customer service if they refunded the whole thing as it was my first day using the account. Not a big deal, just learn from me and please don't make the same bonehead mistake! After enrolling, you should see this confirmation box:

(Follow-up: After filling out a customer service survey, TD Ameritrade called me up and offered to credit back those last 2 free trades or offer me 5 future free trades. Since I only plan on using the commission-free trades, I took the $20 credit.)
Going over the list, I think overall they did a good job including all the most popular ETFs from a variety of ETF firms. Notably missing for some is a gold ETF like GLD.
Selected Vanguard ETFs
Stocks
Vanguard Total Stock Market ETF (VTI)
Vanguard Small Cap ETF (VB)
Vanguard Small Cap Value ETF (VBR)
Vanguard Value ETF (VTV)
Vanguard FTSE All-World ex-US ETF (VEU)
Vanguard FTSE All-World ex-US Small Cap ETF (VSS)
Vanguard MSCI Emerging Markets ETF (VWO)
Vanguard REIT Index ETF (VNQ)
Vanguard Dividend Appreciation ETF (VIG)
Vanguard High Dividend Yield Index ETF (VYM)
Bonds
Vanguard Total Bond Market ETF (BND)
Vanguard Short-Term Bond ETF (BSV)
Vanguard Intermediate-Term Bond ETF (BIV)
Vanguard Long-Term Bond ETF (BLV)
Vanguard Intermediate-Term Corporate Bond ETF (VCIT)
Other Selected ETFs
iShares Barclays TIPS Bond (TIP)
iShares Barclays 1-3 Year Treasury Bond (SHY)
iShares Barclays 20+ Year Treasury Bond Fund (TLT)
S&P SmallCap 600 Value Index (IJS)
SPDR Dow Jones REIT ETF (RWR)
SPDR DB International Government Inflation-Protected Bond ETF (WIP)
PowerShares DB Commodity Index Tracking Trust (DBC)
TD Ameritrade does edit the free-commission list occasionally to add new ETFs and/or drop others. So far, the only ETFs dropped are the ones with low assets and/or trading volume or the trendy ones that people get bored with. For example, the ETFs be dropped on November 20, 2012 include PowerShares DB Commodity Long ETN (DPU), iShares Russell Microcap Index (IWC), Barclays GEMS Index (JEM), and iPath Optimized Currency Carry ETN (ICI). Recent additions to the list include the PIMCO 1-5 Year US TIPS Index ETF (STPZ), iShares S&P 100 Index (OEF), Market Vectors EM Local Currency Bond ETF (EMLC), and PowerShares DB G10 Currency Harvest (DBV). I think if you stick with the popular index ETFs listed above, you'll be fine.
Current New Account Promotions
Right now, TD Ameritrade will also offer you 60 days of free trades if you open a new individual, joint, or IRA account. You can also get up to $600 cash depending on how much money you move over. Note that unlike many other similar offers, this one includes IRAs and thus rollover IRAs from 401k plans.