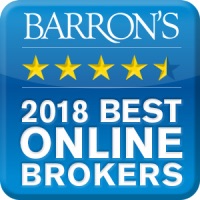 Barron's has released their 2018 online broker rankings. The considerations include trading experience/technology, usability, mobile trading, range of offerings, research tools, customer service, and cost.
The Barron's list always comes from the perspective of their subscriber base – high-net-worth active investors – which may or may not describe you. The overall winner this year was Interactive Brokers. Last year's winner Fidelity Investments was pushed back to #2. Thankfully, Barron's also supplied separate rankings for novice investors, long-term investors, and those that value in-person service:
Top 5 Brokers for Novice Investors
Top 5 Brokers for Long-Term Investing
Top 5 Brokers for In-Person Service
Commentary. A few thoughts on the rankings and other overlooked brokers:
Interactive Brokers is hard to argue against for very active traders. Their average account made 476 trades last year! However, they have a minimum commission of $10 a month for accounts under $100,000, or a minimum commission of $20/month under $2,000. You must pay them $120/$240 a year no matter what. That doesn't work out for me, as some months I don't trade at all. IB is not for newbies.
TD Ameritrade recently showed a lack of commitment to their commission-free ETF list and went for quantity over quality. The free ETF list is still decent, but that move didn't scream "long-term" in my book. I think the customer service is solid, and some people may feel better knowing that they merged with Scottrade and their physical branch network. (E*Trade ate OptionsHouse. Schwab ate OptionsXpress. TD Ameritrade ate Scottrade. Ally ate TradeKing, now Ally Invest.)
Vanguard was included this year for the first time in recent memory, and they were promptly knocked to the bottom for being the most expensive broker due to their high trading costs on non-Vanguard ETFs and mutual funds. Vanguard doesn't court active traders, and active traders probably won't like it at Vanguard.
Robinhood was ignored again this year, despite the fact they have free trades and recently added a web interface for trading and free options trading. They probably would have also ranked low due to limited feature set.
M1 Finance is another free investing app that just popped on my radar. It lets you pick a customized basket of individual stocks (or ETFs) and then lets you buy them with zero commission. I used to worry that Robinhood was alone, but now there is competition. Maybe Barron's will notice one day.
I keep most of my long-term assets directly at Vanguard along with a Solo 401k at Fidelity. My (much more modest) individual stock trading is done through Merrill Edge. I'm happy with them so far. If you have $50,000 in assets across Merrill Lynch, Merrill Edge, and Bank of America accounts, you get 30 free trades per month. That's already more trades than I need, but $100k in combined assets gets you 100 free trades per month.
Disclosure: I am now an affiliate of M1 Finance and TD Ameritrade, and may be compensated if you click through my referral link and open a new account. I am not an affiliate of Interactive Brokers, Fidelity, Merrill Edge, or Vanguard.