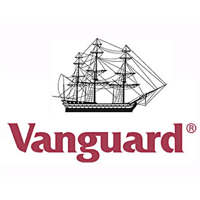 The term "Vanguard effect" was coined due to the observation that after Vanguard enters an asset class with its low expense ratios, competitors are usually forced to follow and lower their expense ratios as well. However, one area where this effect not being seen is money market funds.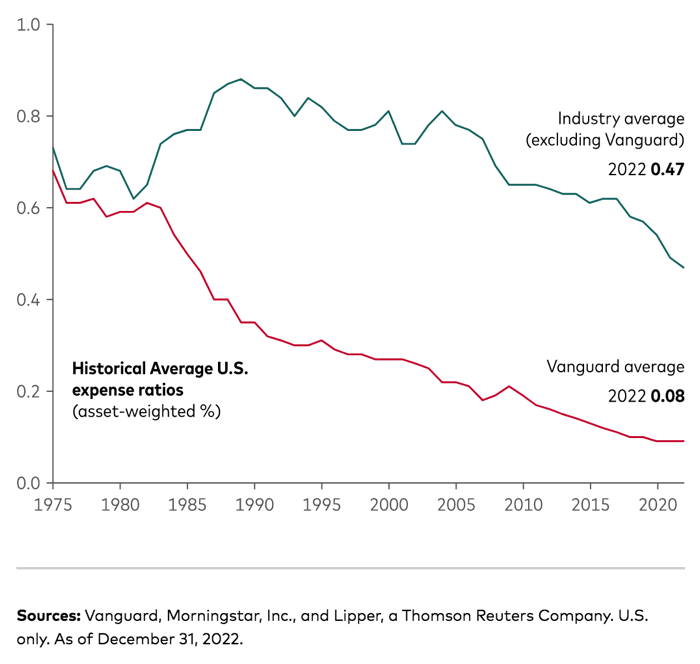 Part of the reason is that the megabanks are still paying basically zero, so the 4% from an average money market fund still looks great in comparison. Here's a chart showing the nearly half-trillion dollars of bank deposits moving over to money market funds over the past year (source).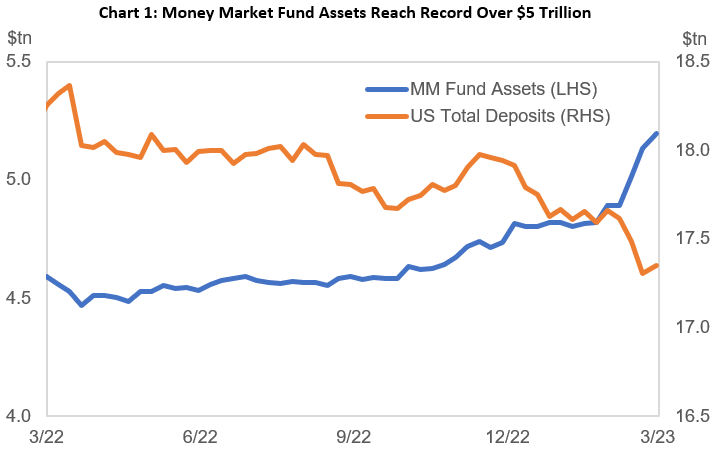 Let's compare S&P 500 index funds. The Fidelity 500 Index Fund (FXAIX) has a tiny expense ratio of 0.015%. The Vanguard 500 Index Fund (VFIAX) has an expense ratio of 0.04%. If you assume that Vanguard is operating "at cost", Fidelity is actually choosing to lose some money to be a little cheaper than Vanguard. If it matched Vanguard's expense ratio, at the current size it would earn an extra $10 million. There is such a thing as "indexing skill", but going forward you could honestly see Fidelity 500 outperforming Vanguard 500 by a slim margin.
Now let's compare money market funds. The Fidelity Government Money Market Fund (SPAXX) has $270 billion in total assets and an expense ratio of 0.42%. This means this fund generates roughly $1+ Billion of revenue for Fidelity every year.
Meanwhile, the Vanguard Federal Money Market Fund (VMFXX) is nearly the same size at $250 billion of total assets, but only a 0.11% expense ratio. That works out to $275 million of revenue. If you assume again that Vanguard is operating "at cost", that means Fidelity is earning an extra $800 million a year by not lowering its expense ratio to the same level.
Money market mutual funds are regulated so tightly now, especially those with "government" or "treasury" in their name, that they can pretty much only invest in the same things and thus earn the same yield. The only way that the customer earns more interest is if the mutual fund provider charges less in fees. It's pretty much a zero-sum game.
Fidelity Government Money Market Fund (SPAXX) pays you 4.73% and pays itself 0.42%. The total yield is 5.15%.
Vanguard Federal Money Market Fund (VMFXX) pays you 5.06% and pays itself 0.11%. The total yield is 5.17%.
The pie is required to be nearly the same for both funds (same ingredients in nearly the same proportions), but with Vanguard the customer gets a much bigger slice. There is nearly zero chance that over time, Fidelity will give you a higher return on Vanguard here.
Now, there are institutional class funds with $50 million minimums that also have low expense ratios, but these are funds that Vanguard uses as their default cash sweep! I could have $100 with Vanguard and get access. The moment any capital gains, dividends, or interest payments are distributed, they are earning a competitive interest rate without any work on my part. You know what Merrill Edge pays me on my default cash sweep? 0.01%.
Vanguard published an interview with their head of taxable money market funds that covers a lot of interesting background details about money market funds: Vanguard's Nafis Smith on the enduring advantage of low-fee money market funds. (Well, interesting to me.) Here are my highlights:
There are technically four types of money market funds (Treasury, government, municipal, and prime) and each are regulated very tightly by SEC Rule 2a-7, and even more so after the 2008 Financial Crisis.
The primary mandate of any money market fund is to seek both stability and provide current income. In a rising interest rate environment, any of these four types of money market funds—U.S. Treasury, government, municipal, and prime funds—should meet that decree. They all hold high-quality assets, are very liquid, and are subject to the same SEC regulation, Rule 2a-7, which is very prescriptive in terms of how much duration risk a fund can take on and how much liquidity must be maintained.
For example, all "government money market funds" must invest at least 99.5% of their assets in cash, U.S. Government Securities, and/or repurchase agreements that are collateralized solely by U.S, Government Securities or cash.
In terms of duration and liquidity, all taxable funds must hold at least 10% of their assets in investments that can be converted into cash within one day. At least 30% of assets must be able to be converted into cash within five business days. Finally, no more than 5% of assets can take more than a week to convert into cash.
Money market funds have only "broken the buck" (paid out less than the $1 NAV) twice, the worst case for 96 cents on the dollar.
Since their introduction in 1971, money market funds have broken the buck just two times. The first was in 1994, when a fund was liquidated at 96 cents per share because of large losses in derivatives.3 The second was during the financial crisis of 2008, because of assets held with the then recently bankrupt Lehman Brothers.4

In response to the 2008 event, the Securities and Exchange Commission amended Rule 2a-7,5 which increased the resilience of money market portfolios and made them much safer than they used to be. Since then, we've seen several additional rounds of reform. In short, breaking the buck was a rare event before, but since the regulations have changed, it's even less likely to occur.
More detail on repurchase agreements and why they are more popular right now (to reduce interest rate volatility).
Fed repurchase agreements are very common in the money market space. It's an overnight lending arrangement between us, in this instance, and the Federal Reserve, which is one of the world's highest-quality organizations in terms of credit risk. We're lending cash and receiving U.S. Treasuries, which are extremely high-quality securities held on the Federal Reserve's balance sheet. The Fed buys back the U.S. Treasuries the next day at a higher price based on Fed target rates, which provides income to money markets.

In a rising interest rate environment like the one we're experiencing, any repurchase agreements are very good at dampening market volatility because they allow us to increase stability by reducing interest rate risk. Repurchase agreements also allow us to pass along the higher interest rate to investors much more quickly.
Vanguard's low expense ratios allows their customers to get both the highest yield AND the safest assets with a very low minimum balance requirement. This makes them the best money market funds.
Our greatest advantage is our low expense ratio, which allows us to do things differently than some of our competitors. We don't have to take on unnecessary risk to reach for yield, and we can manage our portfolios with much shorter durations, maintain higher credit standards, and enforce stricter underwriting standards for our repurchase agreements while still offering a competitive return.