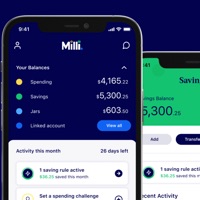 Milli is a new app-only savings account that is backed by the FDIC insurance of First National Bank of Omaha (FNBO). iOS and Android apps available. They came out of the gates at 5.00% APY but recently raised to 5.25% APY. Here are the highlights:
5.25% APY as of 7/20/23
No monthly fees, no minimum balance required.
Ability to split money into multiple "Jars".
App-only. Currently requires iPhone iOS 15.0+, or Android OS 8.0+.
Uses the Allpoint ATM network of 55,000 surcharge-free ATMs worldwide.
No paper checks. No checkwriting ability. No mobile check deposit.
For you rate chasers. this puts Milli newly at the top for a liquid savings account after my July 2023 interest rate update. We'll see how long it lasts.
If anyone remembers FNBO Direct, that is still around at 3.75% APY. So there is a history of FNBO going trendy and grabbing some deposits with a competitive APY for a while. The term "online savings account" is now redundant. The new thing is app-only.
Reading through the various app reviews, the most common complaint seems to be getting denied for a new account after going through the whole application process and/or difficulty funding the new account. So be prepared for some account-opening hurdles.