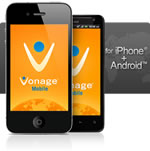 Vonage Mobile is an Android/iPhone app that now allows you to make free outgoing phone calls over WiFi/3G/4G to landline and mobile telephone numbers in the US, Canada, and Puerto Rico. Limited time offer with no stated end date, up to 3,000 minutes per month. You do not need to be a Vonage VoIP customer to use the app.
In addition, you can make free calls to anyone else in the world with the app. Think Skype, but it uses your phone's existing contact list. You must link the app to an existing cell phone number, and when it makes calls it will show that number in the caller ID. I've used the app and the voice quality is good over WiFi. Should even work with iPod Touch or iPad if you have a Bluetooth headset. Hat tip to GudSpellur of FW.
Here are some ways that I can imagine the app saving people money as opposed to paying for an "unlimited everything" plan.
Cell Phone Only, Limited Minutes
If you've ditched the landline and are a cell-phone-only household with limited minutes, you can use this app over WiFi to make outgoing calls that won't count against minutes. The people you call will never know the difference. If you do get your friends to install the Vonage app, both sides can make app-to-app calls for free using your existing address book (still uses data plan or WiFi).
Basic Prepaid Plans
If you have one of these plans that offer basic prepaid service for under $10 a month, then you can use this plan to make more calls without using minutes when in range of WiFi (home, work, cafe, Starbucks, McDonald's, etc).
Unlimited Data, Limited Minutes
If have a plan like the $25/$30 Virgin Mobile Beyond Talk plan that offers unlimited data but only 300 mintues a month, you can use this app with the unlimited data to make additional voice calls.
Miser Mode 🙂
If you don't want to pay for any recurring phone charges, you could link this up with a free Google Voice number and just make outgoing calls on an iPod Touch or cheap inactive smartphone. Incoming callers would just have to leave a message on Google Voice, and you'd call them back.