Vanguard's research department released another study [pdf] comparing ways to increase retirement savings for individuals. Here's one illustrative example; take the following baseline scenario:
Investor begins working at 25, but starts saving at age 35.
12% savings rate
Moderate asset allocation (50% stocks and 50% bonds)
Salary starts at $30,000 but increases with age
Now, here are three ways in which a worker could increase their final savings balance at retirement (age 65).
Option #1. Invest more aggressively with an asset allocation of 80% stocks and 20% bonds, while keeping your 12% savings rate and starting age of 35.
Option #2. Raise your savings rate to 15%, while keeping your starting age of 35 and 50/50 asset allocation.
Option #3. Start saving at age 25 instead of 35. while keeping your 12% savings rate and and 50/50 asset allocation.
Which single option do you think has the most impact? The results are based the median balance found after running Monte Carlo computer simulations based on 10,000 possible future scenarios for each option.
Scenario
Median Balance at age 65
% Increase vs. Baseline
Baseline
$474,461
–
Option #1
(Aggressive asset allocation)
$577,133
22%
Option #2
(Raise savings rate)
$593,077
25%
Option #3
(Start saving earlier)
$718,437
51%
Here's another chart comparing the median retirement balances (inflation-adjusted) for (1) someone with a 6% savings rate and 80/20 aggressive portfolio and (2) someone with a 9% savings rate and 50/50 moderate portfolio.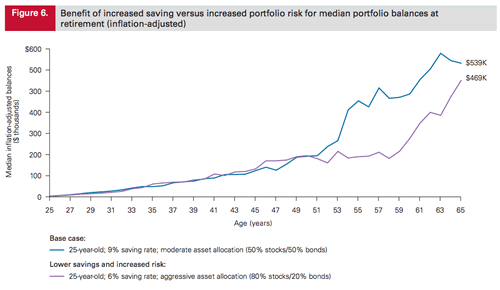 (click to enlarge)
The title of the paper is "Penny Saved, Penny Earned", which matches their suggestion that saving more is more reliably effective as compared to reaching for better investment returns. This information should be helpful for those that would like to avoid stock market stress but worry about giving up those potentially higher returns. If you save more, you can take less risk and sleep better at night while still reaching your goals. Hopefully this will also encourage folks to start saving as early as possible, even it is not an especially high amount.