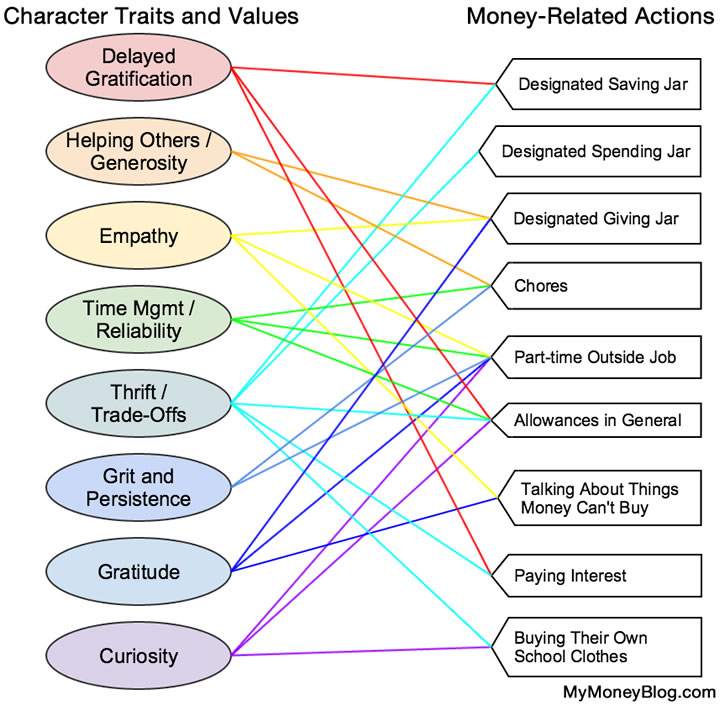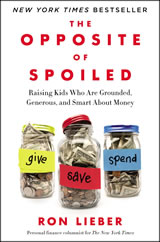 In the book The Opposite of Spoiled by Ron Lieber, there are a number of tips and tricks presented to help teach your kids to be good with money:
The foundation of the book is a detailed blueprint for the most successful ways to handle the basics: the tooth fairy, allowance, chores, charity, saving, birthdays, holidays, cell phones, checking accounts, clothing, cars, part-time jobs, and college.
As I read through them, most of them were never found in my own childhood. I was never given a wad of money to buy my own school clothes. I didn't have a fancy save/spend/give jar system. I had chores, but was never paid for them. There was no forced or guided philanthropy. My parents didn't pay me interest on my savings. When confronted with the fact that all my friends had allowances, my parents eventually relented and gave me… a dollar a week. This was sometime in high school.
I'm not saying that all these clever little schemes don't help to create financial skills. I plan to use some of them myself. But we should also focus on the core values and character traits that lead to good behavior in general. Indeed, this is also acknowledged in the book:
Finally, I want to help all of you recognize that every conversation about money is also about values. Allowance is also about patience. Giving is about generosity. Work is about perseverance. Negotiating their wants and needs and the difference between the two has a lot to do with thrift and prudence.
So I took many of the topics in the book and tried to connect them with the corresponding character traits in the big graphic shown above.
There are many other ways to encourage your kids to learn traits like patience, perseverance, curiosity, or delayed gratification. Many have been part of cultures and/or religions for centuries. The first way kids learn is by watching their parents, so we must be good examples as well. (I know, can't I just buy an app or something instead? I mean, thanks Mom and Dad!)