Here's another article about the relationship between college majors and future earnings. But this WSJ article at least looks beyond just providing the median wage and helps you visualize the spread between the 25th and 75th percentiles for each major: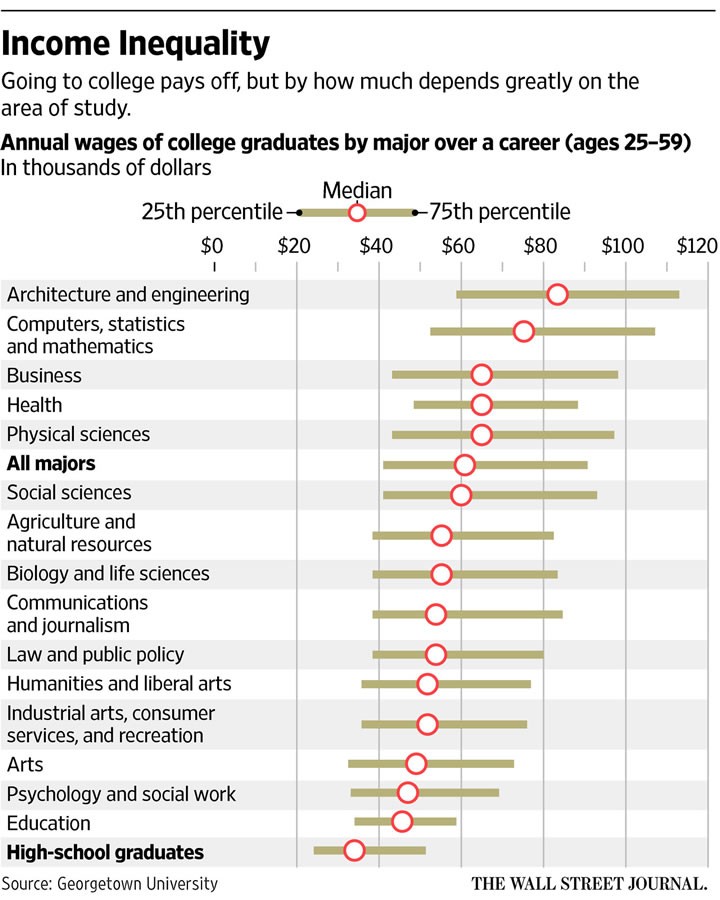 There is also an interactive chart embedded in the WSJ article. For example, I could sort to find the top 10 majors according to their 25th percentile wage, imagining more of a worst-case scenario that just assuming I'll get the median income or higher. Here are a few more nuggets that may surprise you:
Graduates of architecture programs may have higher salaries than teachers, as the latest paper shows, but the February report noted that they're also likely to see unemployment rates twice those of education majors.

[…] just choosing a major in science, technology, engineering or mathematics, known as the STEM fields, doesn't secure a hefty paycheck. Mr. Carnevale's team found that biology majors have median annual wages of $56,000 over their careers from age 25 to 59, or about one-third less than physicists.

Yet once biologists finish graduate programs—and more than half of them do—their median annual earnings jump to $96,000, roughly on par with physicists who have advanced degrees.

There are also wide ranges in salaries for specific majors. The top 25% of earners who majored in finance can expect annual earnings of more than $100,000, while the bottom quartile may bring in just about $50,000 a year.

[…] lifetime earnings for economics majors at the 90th percentile are nearly triple those at the 10th, reflecting the range of destinations for such experts in government and the private sector.
I support the notion that prospective income shouldn't be the only consideration in choosing a career, as I've tried working in decent-paying fields that don't interest me and it just didn't work out. However, money remains a factor and I like to have an idea of what the stats are.
Here's another thing to consider: early retirement in under 20 years requires a 50% savings rate. Such a savings ratio is much more likely if you make twice the overall median salary with median spending (make $120k household income, spend $60k) as opposed to a median salary and half-of-median spending (make $60k household, spend $30k). Someone could start working at 21, retire by 40, and spend the rest of their life doing whatever job or activity they wanted to. Semi-retirement is another option.