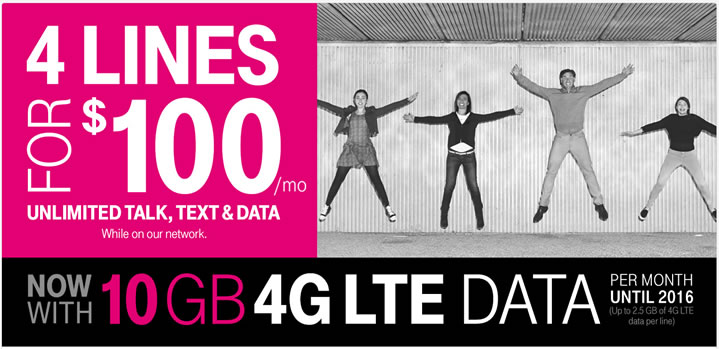 T-Mobile just announced 7/30 that their Family Plan will offer 4 lines for $100 a month with unlimited talk, unlimited text, and 2.5 GB of 4G LTE data per line. (10 GB total across 4 lines. Unlimited 2.5G data after your LTE data allotment is used up.) That is an increase of 6 GB (1.5 GB per line) from their previous offer. Offer expires 9/30/14. I'm not sure why, but the bump up lasts only until 2016, after which it will revert back to 1GB of high speed data per line. That is 17 months from now, so hopefully 4G data will have become cheaper by then anyway. Add a 5th line for only $10 more a month.
These plans include T-Mobile's free international 2G data and texting in 120+ countries. Came in handy for my brother-in-law when he was at the World Cup in Brazil.
These plans do not include any subsidy for a new phone. You can bring your AT&T or Verizon iPhone 5 straight over to T-Mobile just by swapping out the SIM card inside, no special unlocking procedure required. Usually the Prepaid SIM card is $10 but from 8/1 to 8/6 use the promo code SIMDEAL to get it for only a penny ($0.01). Get a nano SIM card if you have a compatible iPhone 5 or iPad Mini. Get a micro SIM card if you have a compatible iPhone 4, 4S or iPad. You can also check compatibility here.
I really hope T-Mobile stays independent because their aggressive pricing will help keep everyone's plan costs in line.
Alternatively, you can get unlimited talk, text, and WiFi/3G data for $25 a month with Republic Wireless (per line, no minimum number of lines). You'll have to buy one of their phones (Moto G starting at $149).